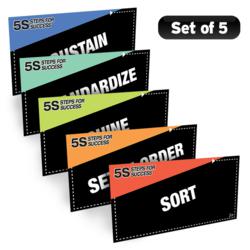 "Our employees are far more educated about 5s safety standards after watching the videos. Our safety numbers are off the chart and accidents are clearly non-existent."
Lake Oswego, OR (PRWEB) September 10, 2012
An essential must have for any business to run efficiently and profitable is 5s posters and 5s videos that implement solutions to promote visual safety in the work area. Creative Safety Supply offers a new product, 5S Steps Poster Pack that will jump start a 5s safety program. The five steps of a 5s safety program is sort, set in order, shine, standardize and sustain. The 5s poster pack will educate employees of the five steps to communicate on how to work more efficiently. When it comes to business operations, ensuring everyone knows exactly where they need to be working, where items should be stored, and making sure everything is clearly marked makes not only an organized company, but also keeps all workers safe.
Creative Safety Supply offers a variety of 5s posters that will improve production flow for all production facilities that are looking to create a lean manufacturing process. Creative Safety Supply will also work with any business that requires a customized poster for a company's specific safety, lean or 5s program.
Another great tool for educational safety programs are the 5s DVDs and videos. The top 3 recommended videos are Xtreme Lean, 5s into Action and the 5s Garage DVD. Creative Safety Supply has worked with big companies such as: NGC, NASA, Kellogg, and others and compiled a list of the most innovative and comprehensive safety videos needed to sustain any 5s program. As one safety leader of a well known company commented, "Our employees are far more educated about 5s safety standards after watching the videos. Our safety numbers are off the chart and accidents are clearly non-existent."
To learn more about 5s training, visit http://www.creativesafetysupply.com or call toll-free (866)777-1360 to get answers for all your questions.