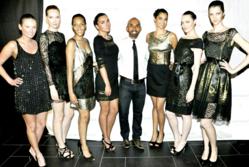 New York, NY (PRWEB) September 10, 2012
On Thursday, September 13, all of Raul Penaranda's hard work and dedication will pay off. That night, at 7 PM, Raul will be showcasing his Spring Ready to Wear Collections during the most high profile and looked to fashion event of the season: New York Fashion Week. While Raul's hard work and dedication have taken him a long way, effective business planning and guidance from "Start At The End" author and President of Growthink, Inc., Dave Lavinsky who have helped Penaranda start small and finish big with his fashion company.
"Companies [like Growthink] really help you understand how to manage your business," says Raul.
New York Fashion Week will start on September 6th and run until September 13th. Raul's Fashion Show will begin at 7PM on September 13th at XL Midtown.