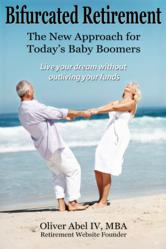 Today's retirement challenges demand new strategies; not the same, old, outdated plans of previous generations.
New York, NY (PRWEB) September 12, 2012
Oliver Abel, founder of EnTrusted.in, an affordable and comprehensive web-based retirement planning guidance program for workers and retirees, announces the publication of his new book, Bifurcated Retirement, The New Approach for Today's Baby Boomers. This book examines the retirement needs unique to Baby Boomers and presents the advantages of the "New School" retirement approach to ensure that retirees will be able to live their retirement dreams without outliving their retirement funds.
Over 76 million Baby Boomers are approaching or entering retirement with decades of hard work behind them. Only now are these Boomers considering how best to plan and live their retirement dreams. However, one concern is holding them back – outliving their retirement funds.
No shortage of financial planning "experts" exists willing to provide their services. Unfortunately, most of these "experts" utilize outdated financial techniques delivered with little reliance on technology; the same tired approach used by previous generations. Today's new retirement risks and opportunities demand new strategies. This easy-to-read book delivers a new approach; a refreshing two-stage program geared to the unique demands of today's Baby Boomers.
Retirement planning is confusing and boring for most people; this book's writing style, format, and creative graphics deliver an insightful and entertaining experience. Retirement planning is also time-consuming and expensive; this book provides concise, informative analysis and encourages readers to enhance their planning experience by accessing the latest Internet technology, which is simple, quick, and affordable.
This "New School" program utilizes a two-stage retirement approach that examines the sources for funding retirement dreams at different ages, how best to employ those funds and when, and the risks that must be considered. Unlike most financial planning experts, the author recommends both well-diversified investment funds as well as annuity products for proper retirement funding. The design simplicity of the author's new program is illustrated using four different case studies of typical Baby Boomers.
The book can be found at Amazon for download to the Kindle, at Barnes&Noble for download to the Nook, and at Smashwords for download to all devices, including personal computers. Of course, visitors can also download the book at the author's retirement planning website, EnTrusted.in.
About the Author
Oliver Abel, a Baby Boomer, has distinctive credentials supporting his refreshing retirement approach: 1) MBA in Finance from Wharton, 2) 20-year experience with major Wall Street firms developing new investment securities, 3) past adjunct professor of Finance at Manhattan College School of Business, and 4) founder of professional retirement planning website.
About EnTrusted.in
EnTrusted.in is a newly released, internet-based platform of EnTrusted Financial Advisors LLC, providing comprehensive retirement planning guidance to US workers and retirees. The site, independent of any financial firm, utilizes the best Internet technology to deliver: 1) creatively produced educational videos, 2) user-friendly interactive retirement planning pages, 3) asset allocation and funds selection platforms, 4) investment performance tracking, and 5) the curating of all relevant retirement research and market insights. This website is an excellent companion to the book and can help today's Baby Boomers establish and monitor their Bifurcated Retirement in a very user-friendly, accessible, and affordable environment.
Employers should note that EnTrusted.in operates independently of all financial service providers. As such, EnTrusted.in is able to offer its services free of fiduciary risks, onerous fee disclosure requirements, and other legal issues of concern to HR departments seeking to provide a retirement planning employee benefit.