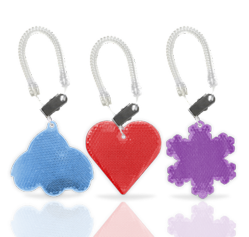 'Something as simple as wearing a reflector will de facto reduce your risk of being hit by a car and potentially being injured for life or even killed. So why not take this easy, inexpensive precaution?"
San Francisco (PRWEB) September 12, 2012
School is back and millions of kids across the US will walk to and from school on their own for the first time. They will be excited, playing and laughing with friends, and safety is probably the farthest thing from their minds.
Keeping our kids safe are parents' number one priority. Unfortunately a pedestrian is hurt in traffic every 8 minutes, and the main underlying cause is poor visibility.
On average, a pedestrian is killed in a traffic crash every 120 minutes. Almost two-thirds of pedestrian fatalities occur when the light condition is either dark or dark with street lights.
No matter how well a driver thinks he can drive, the fact is that visibility is severely impaired in the dark. Pedestrians, bicyclists, skaters and others not driving a vehicle are at great risk to be hurt simply because they are not clearly visible to traffic.
Safees pedestrian traffic safety reflectors make adults and children alike more visible, and more safe, on our roads.
Simply by attaching a Safees reflector to adults' or childrens' clothing increases their visibility to oncoming traffic by anywhere between 300 and 1,000 percent (depending on distance, darkness, weather, placement of Safees). That can be the difference between being safe or not.
Safees hard prism reflectors are attached with a clip on spiral at knee or thigh height. By letting the Safees swing freely, facing traffic, it will reflect oncoming cars' headlights and increase visibility, alerting drivers to a child's or pedestrian's presence on the road and giving drivers more time to stop or steer clear and thus avoiding accidents. (See video for how Safees work: http://www.safees.com/pages/why-safees)
Scandinavian countries have the best traffic safety records in the world and reflectors have long been household staples. In fact in Sweden every school child wears one and traffic fatalities involving children are the lowest in the world Unfortunately the US has one of the worst accident rates in the Western world. (WHO: Global Status report on Road Safety).
Safees are manufactured in Finland and are CE and Lloyds certified and adheres to all relevant ISO standards as well as meeting the very high EU standards for environmental consideration; no waste is produced when manufacturing Safees and, naturally, Safees are themselves 100% recyclable.
By attaching an inexpensive, cute and fun Safees to our children and ourselves, we can greatly reduce the risk of getting hurt in traffic. Wearing a Safees will reduce the risk of being hit by cars by up to ten times.
Safees can be attached to anyone moving around in traffic: pedestrians, cyclists, horses, strollers, pets, skaters, etc.
Safees are available at http://www.safees.com. They retail at 4.95 USD each and come in wide variety of fun designs and colors. Discounts are available for schools and nonprofit organizations.
For samples or more information, please email: johanna@safees.com
Press images are found at:
http://www.safees.com/pages/press-images
Videos for free use & embedding are found here:
http://youtu.be/mINORjh7JmY
Safees was founded by Johanna Denize who is originally from Sweden grew up always wearing a reflector. When Johanna had her first child in 2010 she immediately noticed that strollers are at great risk for being hit since cars simply do not seem to see them. Johanna desperately tried to find quality reflectors (i.e. hard prism reflectors) to attach to her son's stroller and herself. Not finding any reflectors that live up to the high quality found in Scandinavian hard prism reflectors, Safees was born. Johanna is on a mission to increase traffic Safety for children in the US and reduce traffic accidents and fatalities. 'Something as simple as wearing a reflector will de facto reduce your risk of being hit by a car and potentially being injured for life or even killed. So why not take this easy, inexpensive precaution?" says Johanna." Our whole family wears them, we have Safees on our clothes, our bikes, our strollers and even on our pets."
Safees - be seen, be safe!