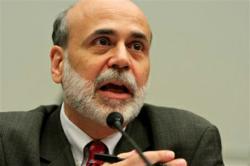 (PRWEB) September 10, 2012
The Federal Reserve's policy-making committee is scheduled to meet September 12-13. Chairman Ben Bernanke is expected announce measures he thinks the Fed should take to stimulate the economy. DirectPay Payroll experts are advising business owners that the outcomes from this meeting could impact them and they should stay informed and up-to-date on the proceedings.
"The Fed is making policy decisions to help speed economic recovery. What they decide could create jobs or create business opportunities that business owners need to be aware of and take advantage of," says Beth Young, Operations Manager at DirectPay.
Chairman Bernanke dropped hints concerning potential future developments in economic policy and employment prospects at the recent annual symposium of the Kansas City Fed in Jackson Hole, Wyoming. Bernanke told the group of economists and central bankers and journalists that the Fed will do more to boost the economy because of the still-high unemployment rate and an economy recovery that's still "far from satisfactory."
One course might be another round of a technique called "quantitative easing (QE)." In QE the Fed purchases U.S. government bonds. This, in turn, impacts interest rates which boosts investing and spending. This ultimately to triggers job creation. In the first two rounds of quantitative easing in 2010 and 2011, the Fed bought about $2 trillion in mortgage-backed securities and Treasury bonds. In his remarks in Wyoming, Bernanke said that those rounds of bond purchases resulted in the creation of 2 million jobs.
The Fed "should not rule out" new policies to improve the job market, Bernanke said. "It is important to achieve further progress, particularly in the labor market," Bernanke said. "The Federal Reserve will provide additional policy accommodation as needed."
Job growth has been a concern in the sluggish economy, which has a long way to go to get back to a healthy level, Bernanke said. The rate of growth has slowed from 4.1 percent in the last quarter of 2011 to 2 percent in the first quarter of 2012 and 1 percent in the second quarter.
"Unless the economy begins to grow more quickly than it has recently, the unemployment rate is likely to remain far above levels consistent with maximum employment for some time," he said.
Other possibilities include keeping both mortgage and interest rates low to encourage more economic activity through consumer and business borrowing. Next week's committee meeting could determine policy that impacts interest rates, availability of investment funds and employment.
"As always we'll be scanning for information that helps our clients," says Young. "Next week's meeting is one we'll be keeping an eye on for sure. "
DirectPay Payroll Services tracks business news that can impact business owners. They also provide full service payroll, tax filing and HR services. Contact DirectPay today at 704-921-2730 or visit their website at http://www.directpaypayroll.com to find how you can get help with your business.