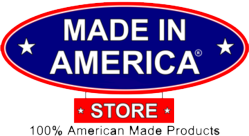 Elma, NY (PRWEB) September 08, 2012
Consumers and believers in the buying American movement can find an information hub at the Made In America Store's newest Blog. The Blog will offer followers news articles pertaining to the Made In USA movement, trending hobbies, new in-store products, promotions, events at the store and a behind the scenes look.
Click here to visit the Made In America Store's Official Blog!
The Made In America Store has made local and national news with their progress on strictly selling 100% American made products. The small store in Elma, New York, has grown significantly since their initial opening in April of 2010 and since has been talking to the public via Facebook, Twitter and many more social media marketing tools.
The Made In America Store's Blog will bring fans and followers a little closer to the team behind the all USA-made products store. The blog will allow for a more casual, friendly approach as opposed to normal press releases and news articles.
You can keep up to date with news articles and press releases pertaining to the Made In America Store by click here!
The Made In America Store, which is located at 900 Maple Road in Elma, New York, is committed to selling 100% American manufactured products. You can visit http://www.MadeInAmericaStore.com for more information or shop our catalog of over 3,500 products from over 300 vendors that are devoted to producing USA made products. All US military personnel, both active duty and veterans, receive a discount every day. Consumers can also keep up to date news articles, events, photos and contests with Facebook, Twitter, Google+, Pinterest and FourSquare!