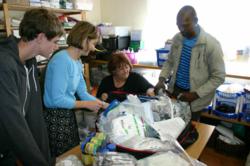 "I can't begin to tell you what a huge help this has been for our clinic. The spectacles have been a huge [gift] for the elderly. The gloves and bandages are being used by our Home Base Care Workers," Dawn Leppan.
Clovis, CA (PRWEB) September 11, 2012
When Compassion Tea co-founders Jack and Chris Faherty wanted to plan a family vacation, they decided to make it a life-changing one for their family. Instead of heading to a beach or Disney park, instead of hoofing it through an American historical sight or partaking of the grandeur of one of America's great national parks, they chose a trip to South Africa. When they left for their trip in late July, they took with them an extra 5 duffel bags. Each bag weighed 50 lbs. and was filled with medical supplies. The Fahertys delivered the duffel bags to Lily of the Valley Medical Centre and 1000 Hills Community Helpers – two clinics supported in part by Compassion Tea through it parent organization, CompassioNow.
While in South Africa, the Faherty family stayed at Lily of the Valley and visited 1000 Hills. They treated two girls from Lily to an afternoon movie and ice cream, visited the clinics, learned about the patients, and noted the current needs of each clinic. Dr. Karin Volker, Lily's doctor, took the Fahertys for a drive around Mophela and introduced them to a woman she has been treating. Because of her handicaps, this 20 year old woman had been deemed useless by her community and was turned away from testing at a government clinic. Dr. Volker's attention is the first compassionate care she has had in her life.
Driving around Mophela left 16 year old Liam Faherty shocked by the disparity between the first world and the third world, both of which are found in South Africa. He said, "I don't understand why the rich of South Africa don't help the poor."
During the months leading up to their trip, the Fahertys worked with CompassioNow, a non-profit organization dedicated to providing life-saving medical care to "the world's least served," to coordinate the collection of pharmaceuticals and medical supplies. The collaborative effort included eyeglasses donated by Care Harbor, Nature Made vitamins donated by Pharmavite, and medical supplies donated by Conejo Free Clinic in Thousand Oaks, CA. In exchange for a monetary donation, Giving Children Hope donated wound care items such as sutures, bandages, surgical gloves, sponges and dressings. A nurse at Los Robles Hospital, also in Thousand Oaks, CA, collected over 125 pairs of warm, rubber-tread hospital socks. CompassioNow also purchased antacids, antidiarrheal meds, aspirin, ibuprofen, and Neosporin.
These donated items were received with great joy and relief. Sister Nuluthando of Lily of the Valley was relieved to receive the aspirin and ibuprofen as the clinic was down to its last 10 pills. In a follow-up email, Dawn Leppan, founder of 1000 Hills, wrote, "I can't begin to tell you what a huge help this has been for our clinic. The spectacles have been a huge [gift] for the elderly. The gloves and bandages are being used by our Home Base Care Workers." While in South Africa, the Fahertys witnessed one such changed life when Ms. Leppan gave a pair of reading glasses to a grandmother. The grandmother was so overcome with emotion that her glasses steamed up from crying, first out of concern that she didn't have the money to pay for the glasses and then out of sheer joy when she learned they were free.
The relationship between CompassioNow, Lily, and 1000 Hills has been strong for several years. CompassioNow began supporting Lily in 2006 and completely outfitted the medical clinic, which opened in 2008. Lee Kennedy, president of Compassion Tea, recalls that when he first visited Lily in 2006 it was housed in "a shell of a building." Today, the children's village and orphanage include a medical clinic, school, and computer room. In November 2006, a group of CompassioNow board members visited 1000 Hills to determine if it was a clinic with which CompassioNow should partner. At the time, Ms. Leppan was operating her feeding center in an abandoned Catholic church once a week. Since that time, and with help from CompassioNow and other private organizations, Ms. Leppan has built a complex that houses a feeding center, nursery and elementary schools, medical clinic, and gardens. Ms. Leppan also operates a community care ambulance to visit surrounding villages and those who can't physically make it to the clinic. She has recently started an outreach clinic, school, and safe house near a government-funded community. Chris Faherty described her visit to this community as "bleak and frightening" because barefoot children were running through sewage and around live electrical wires running down the paths between the little cement block houses. Yet, Faherty called Leppan's corner "an oasis in the middle of disease and chaos."
Both Lily and 1000 Hills receive no government funding and rely totally on private donations like the ones made by CompassioNow.
CompassioNow was founded in 2005 by Ed and Wendy Bjurstrom after they made several trips to Africa and saw the great need for medical care in rural parts of Africa. The foundation sends pharmaceuticals, medical supplies, and funding for staff and projects and makes annual trips to the various clinics CompassioNow supports in order to ascertain their unique needs. Clinics have been chosen both for their Christian mission and for their willingness to partner with CompassioNow. CompassioNow also supports the work of Karero Medical Clinic in Kenya, Tanzania Christian Clinic in Tanzania, and Mission Medic Air and affiliates in Zambia.
Compassion Tea Company began when a core group of CompassioNow board members pledged to find a more sustainable method for raising funds for the work of CompassioNow. Compassion Tea Company is an online tea company that sells specialty and premium quality teas both individually and through its membership programs. Memberships begin at $10 plus $2.50 shipping and handling per month and provide members with 2 pouches of tea (approximately 30 cups of tea) per month.
About Compassion Tea Company
Compassion Tea Company is known for its excellent products and services and is widely recognized for donating 100% of its after-tax profits to bring health and healing to individuals and communities in rural Africa. The relationship between Compassion Tea Company and its parent organization, CompassioNow, is an innovative linkage between premium products and funding for a great cause.
Linda Taggart, Director
Compassion Tea Company
1-855-SHR-TEAS
Linda (at) compassiontea (dot) com
http://www.compassiontea.wordpress.com