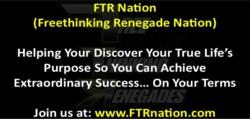 "Death is inevitable for everyone. We are not immortal. Making plans to live a life one is truly proud of should be a daily commitment – but so should executing those plans" Brian Grasso
Montreal, Quebeq (PRWEB) September 09, 2012
FTRNation.com concludes Free Thinking Renegade Awareness Month with yet another outstanding response from it's small but ever growing community of eager renegades. This time to "Life By Numbers" a movie, conceptualized, written and narrated by none other than the founder of FTRNation and Motivational Speaker, Brian Grasso.
This 14 minute mini movie takes awareness of one's life to a whole other level.
Instantly taking viewers to a place in the mind where contemplation is inevitable and listening with great intensity is required – "Life By Numbers" brings light to the fear that if one does not listen to the inner voices holding them back, one will miss something.
And that, in and of itself, is exactly the point behind this epic movie.
If individuals do not stop and listen to what is really happening in life, they will miss out on truly living one that is fulfilled. A life that matters. A life where making a difference is not only important but critical.
The movie itself is incredibly unique to anything ever released in the "motivation" or "success" industries before.
Similar in its profound nature to the movie "The Secret", yet vastly different in context, "Life By Numbers" includes a seemingly endless list of numbers both factual and presumed that are intended to provoke viewers to look inwards at their own numbers that define them.
How many hours a week do they punch in and out of the jobs they hate.
How many maxed out credit cards does one have, to live the lifestyle one thinks they need.
How many dollars are left on their car loans before they can say they own their depreciated hunk of metal – that gets them to and from that job they hate.
And how many possibilities there are to chart a new course.
It's all relevant. It's all thought provoking. And it all comes to the same question in the end, posed by Brian Grasso: "Did I do what I really wanted to do?"
Over the last week – as this movie celebrated its second annual "launch", viewers have all unanimously answered no. Very few if any at all are living the lives they really want to live. They are still unfulfilled – even if wildly successful and wealthy beyond reason.
Many are too busy working to survive and struggling at that while time continues to tick down on their "physical lives." Others are just doing and not planning.
Says Grasso; "Having released this movie twice now over the last year and listening in to viewer feedback about it, it has become blatantly obvious that very few "living out" their own bucket list right now. Instead they are too busy writing it over their coffee breaks, before they go to bed or between visits with family and friends and placing it back on the shelf to collect dust."
"The message is getting lost in translation entirely. It's not about doing it all when one knows they are "about to die" – it's about doing it now – knowing that death is inevitable for everyone. We are not immortal. Making plans to live a life one is truly proud of should be a daily commitment – but so should executing those plans," Grasso continues.
As a company, FTRNation is dedicated to proving that the divide between truly living and simply surviving is where happiness, fulfillment and purpose simply get lost.
Self-soothing techniques such as drinking, doing drugs, medicating depression, gambling or simply rebelling is not the answer. The answer is looking inwards and making a commitment to change your destiny. Find a new purpose. Get on the road to absolute bliss with no regrets. That is living.
FTRNation.com is extending the launch of this movie now indefinitely. Now open to the general public - http://lifebynumbersmovie.com/ is ready to be heard, reviewed, critiqued and shared across the globe. It's been life changing for many – and yet is only one small contribution to the journey of truly living a life of purpose.