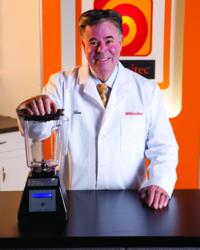 "We could not be more thrilled with the result," said Blendtec founder and CEO Tom Dickson. "Brett and the entire Holland & Hart team dedicated themselves to preserving one of Blendtec's most treasured assets – our proprietary innovations."
Salt Lake City, Utah (PRWEB) September 10, 2012
Holland & Hart LLP announced today that the Federal Circuit Court of Appeals has upheld a $24 million judgment issued in 2011 by the U.S. District Court of Utah in favor of K-Tec Inc., commonly known as Blendtec®.
In 2010, a jury found that Vita-Mix Corporation willfully infringed upon two patents relating to the unique design of Blendtec's commercial blender jars, which alters the flow of liquid during blending to greatly increase blending efficiency. The jury awarded Blendtec approximately $11 million in royalty and lost profits damages, and the District Court added enhanced damages and prejudgment interest in 2011, for a final judgment of approximately $24 million – the largest patent judgment in Utah history.
Intellectual property attorney Brett Foster led the trial team consisting of Mark Miller and Tim Getzoff. In total, a team of more than 10 Holland & Hart attorneys, paralegals and staff supported the case over a four-year period.
"We could not be more thrilled with the result," said Blendtec founder and CEO Tom Dickson. "Brett and the entire Holland & Hart team dedicated themselves to preserving one of Blendtec's most treasured assets – our proprietary innovations."
Vita-Mix Corporation had also sought to question the validity of the patents before the U.S. Patent & Trademark Office. Holland & Hart's team, led by Grant Foster, defended the patents before the Board of Patent Appeals and the Federal Circuit, both of which confirmed the validity of the patents.
About Holland & Hart
With its firm-wide resources, local presence and coordinated efforts, Holland & Hart LLP delivers integrated legal solutions to regional, national and international clients of all sizes.
Since its inception in 1947, Holland & Hart's more than 400 lawyers have consistently been recognized by leading national and international peer and industry review organizations for innovation and dedication to the practice of law.
Recently, Holland & Hart was recognized one of the top 20 firms in the nation by U.S.News & World Report and Best Lawyers® based on the total number of first-tier metropolitan rankings for 2011-12.
For more information, visit http://www.hollandhart.com.