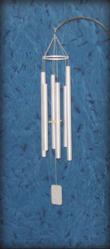 People love this chime and making a large sized one works well for customers who want this tuning in a lower range
Dallas, Texas (PRWEB) September 09, 2012
If you love wind chimes, company officials with a Dallas-based company called Ecology Shops have added the Himalayan Echo, making it possible for everyone to get them at a bargain.
"We're adding the Himalayan Echo wind chimes, one of our most popular tunings to our large wind chimes," said Owner Stephen Betzen.
Since the start of business in January of 2005, the parent company of Eco Wind Chimes, was founded on the belief that any company has a responsibility to the community they live in.
The addition of the Himalayan Echo, Betzen said, is the company's way of keeping in line with its vision and core values to customer satisfaction.
"People love this chime and making a large sized one works well for customers who want this tuning in a lower range," Betzen stressed.
Betzen explained that like all of the company's wind chimes, the Himalayan Echo is hand tuned.
The company's decision to add the Himalayan Eco could prove to have perfect timing.
According to NDP Group, an industry leader in research, tracking, and consumer trends, the demand for products developed for soothing minds and stress-relieving has increased more than 20 percent in the past 18 months and is expected to continue an upward spiral through 2020.
"We're pleased to make this addition," said Betzen. "The Himalayan Echo Tuning transfers well to the deeper sounds of a large wind chime and like other Grace Notes wind chimes, it is guaranteed for 10 years."
For more information, please visit: http://www.Ecowindchimes.com