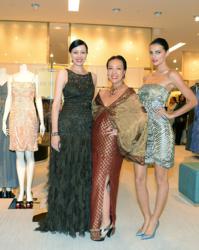 Laguna Niguel, CA (PRWEB) September 10, 2012
The 6th Annual Designer Runway is a one of a kind luxury event and fashion show taking place at the Laguna Design Center. The festivities begin with an evening of cocktails, wine, and exquisite food. Guest will enjoy a culinary experience from top local restaurants sprinkled with a variety of different mixologies and beverages throughout the Center.
LA Fashion Designer, Sue Wong, will kick off the main event with a Fall Fashion Preview. Sue Wong will present 40 looks from her new Fall Collection available at local high end retailers. Sue Wong will be part of the judging panel selected to choose the evenings winners.
The main event Designer Runway is a fashion show competition between 12 Orange County interior design firms. The Design Teams are given 90 minutes before the show and 7 yards of fabric, from Laguna Design Center showrooms, to make an incredible runway outfit. They are then rated by Celebrity Judges and awarded 1st, 2nd, and 3rd place.
Designer Runway 2012 will benefit the Philharmonic Society of Orange County, who is dedicated to the knowledge, enjoyment and appreciation of music. The PSOC Youth Music Education Programs offer an extensive array of grade specific music education programs that supplement and enhance school curriculum. The Youth Programs conform to the California Visual and Performing Arts Framework.
ABOUT SUE WONG
For over two decades Sue Wong has been astonishing fashion aficionados with collection after collection of ravishing dresses that prove both timeless and timely. Distinguished by the impeccable quality of traditional couture dress making, her designs are suffused with Old Hollywood glamour, steeped in romance and mystery while being utterly modern and accessible to women everywhere. Sue continues to forge new ground in defining fashion that transcends generations and boundaries even as she creates masterpieces of passion and desire expressed through inimitable style. Sue Wong is available from $229 to $829 nationwide at specialty boutiques, major department stores including Neiman Marcus, Saks Fifth Avenue, Nordstrom, Bloomingdales, Lord & Taylor, Macy's and internationally in over 27 countries. http://www.suewong.com
Luxe Interiors + Design Magazine is the uncompromised source for those with a passion for creating beautiful surroundings and living well. It is the influential go-to guide that leads readers to discover and acquire local and national resources for design, decorating, architecture and renovation. Curated for the affluent, sophisticated homeowner, Luxe Interiors + Design Magazine is the only luxury publication that offers access to the local design and architecture scene, while also covering national design news and trends. The Luxe Interiors+Design Magazine network and its influence extends nationally into local markets reaching in-market readers. http://www.luxesource.com