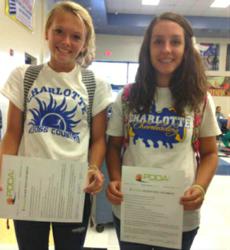 556 students sign pledges promising not to text while driving
Punta Gorda, FL (PRWEB) September 09, 2012
PDDA.org gets an overwhelming response from the high school students at Charlotte High, in Punta Gorda, FL for their first event to give away bracelets and have the students sign a pledge certificate promising to stop texting while driving. The bracelets have "Stay Alive, Don't Text and Drive" imprinted on each one of them.
Lisa Hamlin, a local Punta Gorda real estate broker with Lisa Hamlin's Power House Real Estate, volunteered her time and ran the entire 3 day event, with the help of her daughter Summer Hamlin.
They showed the students a powerful 10 minute video with clips from the AT&T Texting Can Wait campaign and the StopTheTextsStopTheWrecks.com Ad Council campaign, with a message from PDDA Co-founder Quintin Hardtner, of Shreveport, LA.
Wednesday, September 12th NBC-2 of Charlotte County, FL will be airing a live story about the pledge event and how it helped the Charlotte Tarpons receive the "Schools That Rule" award.
The mission of PDDA.org is to help prevent texting while driving accidents by making teens and adults aware of the dangers of texting and driving, by providing technology to disable texting while driving, and to get commitments from people to stop this deadly behavior.
The goal of PDDA is to get 1 million people to pledge not to text and drive over the next 12 months. The momentum is already kicking in, so they believe they will be able to hit that goal in time, as long as they are able to get the support needed to get the message out, the bracelets distributed, and the technology provided to young adults around the world.
"One of the biggest issues we are seeing is just the pure lack of awareness of how serious this deadly habit is. Most young kids, AND many adults are texting so much that they don't even realize they're doing it, until its too late..." says Quintin Hardtner.
If you would like to find out how you can support the cause to stop this deadly behavior, please visit http://www.PDDA.org to find out how you can help by volunteering your time, purchasing bracelets wear and to pass out, or by donating funds to help support the cause.