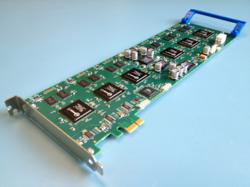 Any MPEG to any MPEG
Amsterdam, Netherlands (PRWEB) September 10, 2012
VideoPropulsion® (OTC:VPTV) today announced that the company is expanding its industry-leading range of FloodGate® HDTV hospitality headend systems by launching a new series of next-generation transcoding and mobile streaming appliances and PCIe cards for OEM applications powered by Zenverge ZN2000 content networking ICs. Harnessing the robust transrating and transcaling capabilities of the ZN2000, the new transcoding and mobile streaming solutions can be integrated with VideoPropulsion's FloodGate or deployed in a standalone Mobile Video HotSpot (MVHS) to more efficiently deliver linear digital television programming across any hotel, hospital, university, or multiple dwelling unit (MDU) wireless networks to a wide range of multiscreen devices, including smartphones and tablets.
"FloodGate provides hospitality guests with an unmatched quality of experience," said Carl Pick, chairman and CEO, VideoPropulsion. "Adding Zenverge ZN2000 technology to our Mobile Video HotSpot solution allows consumers to extend their viewing experience beyond the confines of their room to other areas of the hotel, such as restaurants, meeting rooms and exercise facilities so they don't miss a single minute of an important sporting event or favorite TV show. Guests sharing a room are not limited to watching only a single program on a traditional television screen. They can now access multiple high-quality video streams on a variety of mobile devices."
The Mobile Video HotSpot is the perfect solution for delivering live streaming television channels to hospitality environments including hotel lobbies, restaurants, bars, pools, and meeting rooms, utilizing a wireless Wi-Fi network infrastructure. Leveraging the powerful features and benefits of the FloodGate line of HDTV hospitality headend appliances, the Mobile Video HotSpot processes incoming streams from DISH Network®, DirecTV®, cable TV, ATSC terrestrial, and other HD content sources and transforms the content into formats suitable for playback on mobile devices. Content security is maintained through the use of industry standard encryption mechanisms. MVHS can be deployed as a standalone service or integrated into a new FloodGate FG-4000 series appliance.
"The Zenverge content networking IC allows us to seamlessly transcode any MPEG to any MPEG," said Lee McKenna, VP of Marketing, VideoPropulsion. "Thanks to the flexibility offered by the ZN2000, we have dramatically increased the density of our transcoding solutions, lowered manufacturing costs, and reduced inventory by employing the same assembly for playing out MPEG-4 satellite streams on TVs as we use to stream high-quality video content to mobile devices."
The Zenverge ZN2000 content networking IC is an extremely versatile solution capable of simultaneously transcoding up to four HD streams with reduced DDR memory providing high density streaming, low power per HD stream and reduced rack space while maintaining a superior video quality. The ZN200 features a robust H.264/MPEG2 transcode engine that delivers true 1080p HD quality video, leading to an enhanced quality of experience for VideoPropulsion customers.
"VideoPropulsion's FloodGate is the perfect application to showcase the many features and benefits of our quad stream ZN2000 content networking IC," said Shawn Saleem, executive vice president of marketing & strategic planning, Zenverge. "From a single, high-density solution, the ZN2000 can efficiently handle any MPEG-2/MPEG-4 input stream and transcode to any MPEG2/MPEG-4 output stream at any profile, bitrate or resolution required.
VideoPropulsion is showing their new transcoding solutions at IBC 2012, Sept. 7-11, in Amsterdam, at stand 1.C95. A demonstration by Zenverge is also playing at the Lincoln Room located at the Holiday Inn near the RAI in Amsterdam. To schedule a meeting with Zenverge, please contact Afsoun Mobini at afsoun.mobini(at)zenverge.com.
About FloodGate
FloodGate appliances from VideoPropulsion bring hospitality HDTV programming from satellite, and cable television MSOs to a variety of hospitality markets and support distribution via RF (coax), IPTV (Ethernet), or wireless mobile infrastructures. All FloodGate models automatically encrypt HD channels to meet Hollywood's strict requirements for content protection using standard technologies readily available from commercial hospitality television set and mobile device manufacturers. FloodGate systems can co-exist with most pay-per-view and video on demand systems currently deployed.
About VideoPropulsion
For nearly 40 years, VideoPropulsion has been a world leader in hardware and software for high performance, low cost per stream, digital content manipulation, and has established a reputation for providing unique HDTV, VoD, and IPTV products. The Company offers revolutionary FloodGate satellite and CATV transcryption appliances as well as OEM computer modules for a variety of applications, including streaming, multiplexing, demultiplexing, modulation, demodulation, transcoding, encryption, and splicing MPEG formatted data.
About Zenverge (http://www.zenverge.com)
Zenverge is a fabless semiconductor company devoted to accelerating consumer access to next generation digital content and services. The company is a leading developer of Content Networking ICs built around the patented TransAll™ technology, a core requirement for next generation video services gateways. The company is based in Santa Clara, California.
VideoPropulsion and FloodGate are registered trademarks of VideoPropulsion Interactive Television, Inc. DISH Network is a registered trademark of DISH Network. DirecTV is a registered trademark of DirecTV.