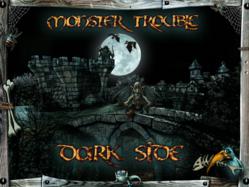 Monsters Strike Again
Bologna, Italy (PRWEB) September 10, 2012
Monster Trouble Dark Side, the sequel of "Monster Trouble", is available for iPhone & iPad.
The novelties in Monster Trouble Dark Side are many, starting with some new and funny animated characters, including two orcs throwing darts and flaming arrows and vampires that fly and suck the blood of their victims, turning them into as many vampires. Added to this is the dynamic weather with short rains and storms (putting out fires) and the day / night cycle that characterizes some of the most frantic levels of the game. To make the gameplay even more interesting, in Monster Trouble Dark Side there are also a number of power-ups ranging from Invisibility Cloak, and Magic Shield, to explosive potions and the seven-league boots, all of which create a great dynamism into the game without making it more complicated.
The game interface has been kept as simple as possible. At the beginning of each level a marker identifies the objective and, if necessary, but only in the early stages, some comics will appear showing directions and suggestions, then you start to play.
At the bottom of the screen a set of icons show the available resources, with the monsters on the left and power ups on the right. The player should take a look at the  scene, choose the character he wants to play with,touching with the finger one of the icons (touching multiple times increases the number of monsters to be released) and then choose the direction from which the monsters come from, by touching one of the yellow arrows which in the meantime came up on the screen. At this point you can relax and observe the scene, or you can dip into the fray.
If we deem it necessary, at any time we can release more monsters or use power-ups to boost the monsters on the field. When you release a vampire it is a good idea to give it an invisible cloak to allow him to reach his victims undisturbed. To win in most cases it is sufficient to destroy the target before running out of resources, simple but not always easy. In other cases, the game mechanics are different, for example, the goal may be to cross a particularly defense area within a given time, only one thing is assured, the game will be a lot of fun.
Ultimately Monster Trouble Dark Side is not just another game full of innovative features, it is a game  well made from the technical and the artistic point of view with a challenging and rewarding gameplay.
*FEATURES
Fully 3D, smooth camera zooming and rotation with realtime lights and shadows.
Variable weather, with frequent rain and storms.
Day and night light cycle.
Up to ten different monsters each with unique characteristics.
Four types of power-ups can be used to give special powers to the monsters.
Ten original game maps of great artistic quality.
Five different types of defenders each with special powers.
Twenty-four levels of play with increasing complexity.
Up to four different levels of difficulty, to make the game accessible to everybody.
Localization in five languages : English, French, German, Italian and Japanese.
Game Center support.
All missions can be replayed at will.
Requirements: Compatible with iPhone 3GS, iPhone 4, iPhone 4S, iPod touch (3rd generation), iPod touch (4th generation) and iPad.Requires iOS 4.2 or later.
Pricing and availability: Monster Trouble Dark Side is available at the price of $3.99 (USD) exclusively through the App Store in the Games category or Strategy & Family
NuOxygen Site Page
http://www.nuoxygen.com
Game Page
http://www.nuoxygen.com/games/monster_trouble_dark_side/monster_trouble_dark_side.php
Download AppStore
http://itunes.apple.com/app/monster-trouble-dark-side/id550813650?ls=1&mt=8
YouTube Video
http://www.youtube.com/watch?v=-Ty4Gk8-07w
Giant Poster
http://www.nuoxygen.com/press/monster_trouble_dark_side/poster/mtds_poster.jpg
Game Splash
http://www.nuoxygen.com/press/monster_trouble_dark_side/0.jpg
Media Assets : more images hosted on site
http://www.nuoxygen.com/press/monster_trouble_dark_side/
Images Zip
http://www.nuoxygen.com/press/monster_trouble_dark_side/monster_trouble_dark_side_images.zip
Docs
http://www.nuoxygen.com/press/monster_trouble_dark_side/docs.zip
Icon 1024x1024
http://www.nuoxygen.com/press/monster_trouble_dark_side/MTDS_IK_04.jpg
While most of the players that like strategy games know what's a Tower Defense, not everyone is familiar with the Reverse Tower Defense genre, that is the video games in which, rather than managing the defenses, the player assumes the role of strategist and manages the aggressors. The reason for this, in our opinion, is that making a good quality RTD is not easy. This type of games not only fits into a niche market, but most of the time tend to be a bit too complicated, and aimed at an audience of specialists.
With "Monster Trouble HD", the studio Magic Dream Games has created the first unconventional Tower Defense game. Using a 3D implementation of very high quality together with a highly addictive gameplay that leaves little room for downtime, MDG has produced a revolution in the industry, so to merit the title of "Game of the Week" in 85 countries and a number of other awards. A year later with "Monster Trouble Dark Side", published by NuOxygen, MDG aims to give birth to a new kind of Reverse Tower Defense that sets himself between strategy games and arcade games
NuOxygen
Based in Bologna, Italy, NuOxygen is an internationally focused publisher of videogames and tools capable of high level productions. NuOxygen specializes in the publication of interactive entertainment software and graphic tools but provides also commercial and industrial Apps. An ambitious team with long-time experience in the game industry, an innovative corporate concept, and a strong network of global partners are NuOxygen's great advantages.