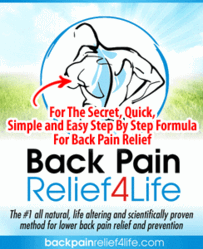 Ian's program corrected a very severe and significant problem and in the process minimized the risk of further injury.
(PRWEB) September 15, 2012
Ian Hart, B.S., C.S.C.S. has developed an online program called Back Pain Relief4Life. The program is targeted at people who suffer from back pain. The Back Pain Relief4Life program costs $47.00 and contains a twenty-eight minute online video, nine short coaching videos, a four minute program called "The Cubical Cure," and one-on-one help.
"A single chiropractic treatment for back pain might cost about $65. Acupuncture is more expensive. Drugs are addicting and don't work," said Ian Hard, B.S.,C.S.C.S. "People with back pain don't want empty promises. They want to be able to work without pain, spend time with their children without pain. Live life without pain. My program is affordable and comes with a money back guarantee. It is a natural, cheap, and effective alternative to other back pain treatments that don't work!"
The Back Pain Relief4Life program has a website filled with video insights of actual people discussing how and why their chronic back pain responded to Ian Hart's program. For example, Bill Gardner said the following: "I had severe scoliosis in my back… possible surgery… I had 8 tenth of a centimeter movement in L6 or 5 whichever one it was in my lower back which is basically an incapacitating scoliosis and movement of the vertebra… the program corrected a very severe and significant problem and in the process minimized the risk of further injury. If you have a serious back or hip problem, I am very confident in recommending this program as a way to get better regardless of whether you're planning on having surgery or not; it's that good. This program can work for absolutely anyone."
People interested in an alternative treatment for back pain should consider Ian Hart's Back Pain Relief4Life program. All major credit cards are accepted. For testimonials, details, and more- click here: http://www.backpainrelief4life.com/