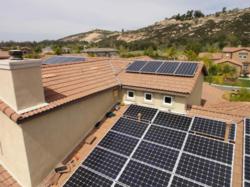 Great communication product and price, what more could I ask for. Keep up the good work! – John R
San Deigo (PRWEB) September 09, 2012
PeakSolar.com is proud to announce the completion of a 9.6kw solar energy system at in PGE region. The system will be in 5 years due to high energy cost from SDG&E and 30% tax benefit from the Federal government.
The system uses Hyundai 240 Solar panels.
This 9.6kw system will save the equivalent of:
Gallons of foreign oil not needed for the year: 966
Pounds of waste recycled for the year: 8,988
Annual CO2 offsets (LBS) 26,066
About Peak Solar: Peak Solar, LLC
For more information on how to apply for a Peak Solar development package please contact Director of Development and Engineering:
John Bucher,
1-805-Solar-81 or
JrBucher(at)PeakSolar(dot)com
About Peak Solar:
PeakSolar.com is a regional expert in solar development and engineering as well as a leading supplier of photovoltaic components and solar kits. Providing turnkey PV systems for residential, commercial and industrial applications. Peak Solar has developed systems from the home consumer to corporate energy development parks.