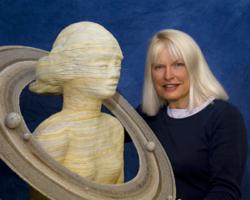 Flagstaff, Ariz. (PRWEB) September 11, 2012
The extraordinary fine ceramic art of Paula Rice infuses a human dimension to the planets and our universe. The artist's highly acclaimed Planet Series is being installed for a grand re-opening gala. The event also features special performances by musicians from NAU's School of Music at Northern Arizona University's Ardrey Memorial Auditorium on Saturday, September 15.
The Planet Series will be on prominent display in the gorgeous and functional lobby of the newly remodeled Ardrey Memorial Auditorium. Rice is also providing a special piece to commemorate 9/11. Titled Tribute 9/11, this sculpture will be in a space that was created specifically for it on the balcony level of the auditorium. There are dozens of special design features to the remodeled Ardrey. The auditorium features new art exhibit spaces and it is completely ADA accessible.
A part of the attraction of this new venue for master ceramic artist Paula Rice stems from the fact that she doesn't shy away from controversial topics including the national tragedy of 9/11, is there life beyond the life here on earth and how many planets exist.
"Of course there are nine planets," Paula Rice said during a recent interview. "Pluto was discovered here from Flagstaff; we live in Flagstaff and of course I'm going to include Pluto," she added about the new permanent installation for the Ardrey Memorial Auditorium lobby.
For NAU students, faculty and staff – as well as for the greater Flagstaff and northern Arizona communities – the remodeled Ardrey Memorial Auditorium is designed to bring renewed attention to a wide range of arts, a kind of multi-disciplinary approach spearheaded by the Dean of the College of Arts & Letters, Michael Vincent. "The whole impetus of having art work in here is all Michael Vincent," said Kathy Battali, Senior Program Coordinator for NAU's College of Arts & Letters. She added that with features such as the lighting of the lobby and how it will be seen from the NAU campus – the intention is to bring a greater NAU audience plus more interest from Flagstaff into celebrating the arts.
Paula Rice recently retired from NAU as a professor emeritus to spend more time creating her art and educating a wide audience about her work. She has been interested in our human connection to the universe for years.
"The only thing we have is our human connection to the universe," said Rice. "For all practical purposes, we're alone in the world. It's beautiful out there. It's a vast desert, but nobody's there. In the end it's always about us – we're only really dealing with our consciousness." Rice has been inspired in part by Hubble Space Telescope images of space and they helped spur her keen interest in creating the Planet Series in the first place. "It's beautiful and there's nobody there – that's why I made these figures," said Rice.
Tribute 9/11, a ceramic piece made in honor of 9/11 first responders, is a large-scale sculpture with glazed, brightly colored fire imagery wrapped around the surface of a human figure. "After 9/11 I wanted to act, to give back," said Rice.
For Kathy Battali at NAU's College of Arts & Letters having Rice's art in the new Ardrey lobby is a feature of the plan to bring positive attention and a renewed enthusiasm to what is destined to be NAU's new revived arts compound. This compound includes Ardrey but also the adjacent Clifford E. White Theater.
"We want to draw attention to the entire complex," said Battali. "The biggest thing that makes me happy is ADA," she added about the major remodeling of Ardrey. "Anybody can get in here."
The Planet Series contains sculptural, figurative interpretations of all the planets in our solar system, including Pluto. Each figure contains information from space as seen from the Hubble Telescope. Each piece will be displayed on specially built pedestals in the Ardrey lobby.
"My work is a way for me to imaginatively inhabit our planets, and to make human connections where there seems to be none," said Rice. "I like the way the dreadful desert out there in space leads us right back inside ourselves—into our own minds, where we started," she said.
Rice said that her current work consist of a series of porcelain wall pieces with the theme of the night sky. These pieces have celestial objects in relief, and sometimes include the San Francisco Peaks and other Flagstaff locations. "They have given me the opportunity to experiment with techniques I learned while on a residency in China several years ago," said Rice. "They are great fun, brightly colored, and more playful than much of my previous work."
Music by ensemble and solo musicians from NAU's School of Music will be part of the grand re-opening gala for the University's wonderful, much improved Ardrey Memorial Auditorium. The gala is on Saturday, September 15, 2012 with concert seating at 7 p.m. The music begins at 7:30 p.m.