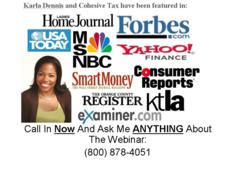 (PRWEB) September 10, 2012
This announcement is of the public webinar for everyone to access get to be to participate and listen in to hear Karla Dennis go over her latest webinar called "Give Yourself A Raise And A Tax Cut" Find out where you are unwittingly leaving money on the table, from the nation's foremost financial and tax expert.
Join Karla Dennis - Tax Strategist as seen in Forbes Magazine as she hosts a webinar for the Live Out Loud Community and Loral Langemeier on September 11th. at 5:30 p.m. Pacific. She will be teaching multiple ways to increase income and reduce taxes.
Click Here To Listen Or Register For The "Give Yourself A Raise And A Tax Cut" Webinar!
Karla strategizes by sharing 8 points of note for taking or starting a business and moving to the next level; help keep more cash in-pocket.
Listen to tax guru Karla Dennis as she reveals the mindset needed, and 8 steps to take to get to the next level of success.
Join us for about 30-45 minutes at the link above.
Get an inside analysis at the thoughts of a tax guru as she reveals certainly one of the most overlooked a part of taxes and economic information. Plan ahead for this and future years. Determine how to save and spend less taxes, by getting the plan needed to implement success in any business endeavour. As Karla always does, this webinar is available free of charge.
What this means to every listener:
Listeners get a no hold barred look at what to do to maximize their cash savings comprehending the tax benefits of analyzing their current tax return, as well as the necessities of setting a plan in place early, in order to take the most advantageous steps for their impending or existing business.
The goal of this is to educate and inform. Anyone can learn to take the information from an expert and apply it to their business. Learn to take that first step. Join Karla. No one is ever disappointed.
Click Here To Listen Or Register For The "Give Yourself A Raise And A Tax Cut" Webinar!
Karla Dennis is the Founder and CEO of Cohesive Tax, which is a bookkeeping service firm. Karla Dennis is actively sought as a tax expert by the media and has been quoted by Smart Money, CNBC, Consumer Reports and MSNBC. She actively speaks to various business leaders, executive organizations, trade groups, community factions and civic gatherings and area Chambers of Commerce.