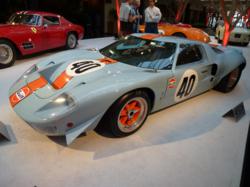 Monte Sereno, CA (PRWEB) September 10, 2012
Monte Sereno, California, 10 September 2012 – Mike Gulett's latest book, "Twenty-Five Affordable Classic Cars" has been on the Amazon Best Seller list for Kindle books in the Classic Cars category for the past week.
This eBook is written for the classic car collector on a budget of $150,000 or less and was published on Amazon Kindle Direct Publishing Select in August. This book addresses a timely topic because classic cars are steadily increasing in value.
It now takes upwards of $30 million, some say $40 million, to be in the exclusive Ferrari 250 GTO owner's club with the last sale, maybe the highest price ever paid for a car, at $35 million in early 2012.
A Ferrari Testa Rossa sold at the Gooding auction in August 2011 in Pebble Beach for $16.4 million – a record for this model. In August 2012 at the Gooding auction in Pebble Beach a very special Ford GT40 sold for $11 million, the highest price ever paid for an American car.
There have been a few other record prices set over the last one to two years at major collector car auctions. What does this mean for the collector car market in the future? How does this impact the classic car collector of more modest means? This topic is discussed on Mike Gulett's classic car blog, My Car Quest.
About My Car Quest
Mike Gulett is the publisher and writer of the popular classic car blog, My Car Quest, where he writes about classic cars, race cars, other cars that interest him and the people who made or drove those cars.
He has published a few books about classic cars, the latest being "Twenty-Five Affordable Classic Cars". He is also a car collector and writes from the perspective of a collector and an enthusiast.
Contact: Mike Gulett
Email: mike(at)mycarquest(dot)com
Mobile phone: 408-406-5439
Monte Sereno, California 95030 USA
###