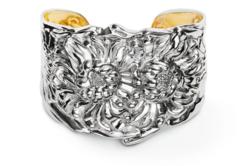 The Traditional Home reader has extraordinary taste and fine values -- exactly the profile of women who love American Estate silver jewelry.
New York, NY (PRWEB) September 18, 2012
American Estate Jewelry, the company dedicated to silver jewelry handcrafted in America, has announced that the company's repousse' silver cuff bracelets have been chosen to honor winners of Traditional Home's Classic Woman Awards 2012. The celebration luncheon takes place September 19, 2012, at the Mandarin Oriental Hotel Ballroom in New York City.
According to American Estate founder Carolyn O'Keefe, "Traditional Home Magazine appeals to confident women who have extraordinary taste and fine values. That's the kind of woman who loves our bold cuffs." Traditional Home and the prestigious Silver Promotion Service selected The Chrysanthemum Cuff on the basis of three attributes. The bracelet offers timeless beauty, enduring value as a handcrafted and hallmarked work of art, and Made in America credentials.
Winners include O'Keefe's fellow Baltimorean, Pascha Peay, whose Imagine Me Ministries has boosted girls' positive life paths. Other winners include Shannon Thompson from San Diego, California; Nancy Chance from Noblesville, Indiana; Evelyn Castellar, from Federal Way, Washington; and Linda Davidson from McLean, Virginia. Each exudes confidence and inner beauty. That, according to O'Keefe, is the profile of American Estate customers.
More than half of its cuffs are self-purchased by women based on very specific, individual preferences. As for customers buying a silver cuff as a gift, most givers are prompted by the recipients. Women give guidance to the gift-givers in their lives. American Estate now offers free "hint" cards, small cards featuring photos and information on its most sought-after designs, upon request by emailing info(at)americanestatejewelry(dot)com.
At the ceremony, Traditional Home editor-in-chief Ann Maine will present the inspiring story of each woman and honor them with The Chrysanthemum Cuff. She will also recognize Michael Galmer, the designer and creator of the cuff. Galmer is known for his 20-year collaboration with Tiffany & Co. and extensive tabletop creations collected by connoisseurs worldwide. The tie-in with Traditional Home is a natural.
Galmer has moved from tabletop to jewelry box to wonderful success. His expertise in the rare repousse' technique works equally well in jewelry, with sculptural floral motifs and intricate detail. The classic silver cuff is the bedrock of his collection. There has long been a traditional alliance between interior design and jewelry. According to Dallas interior designer Karen Sugarman, "Women who love classic home design also love and collect wonderful jewelry. It's like peas and carrots." The Classic Woman Awards are attended by a who's who of the interior design world such as Bunny Williams and Sue Bednar Long.
The Chrysanthemum Cuff is created from luxury sterling silver in the repousse' ("pushed from the back") technique employed by only a handful of artisans worldwide. After the pushing from the back with Galmer's steel mold, floral details are hand-engraved on the top. Inside the cuff, the lining is 24K gold for an extra touch of luxury. The design features four chrysanthemums, two cheek-to-cheek on the front with individual stemmed blooms on each side. The intricate detail becomes more pronounced and valuable as the bracelet ages. This is why Galmer silver jewelry is considered an instant heirloom. Each piece is collected with the idea of wearing it for a lifetime then passing it to the next generation.
Baltimore-based American Estate Jewelry offers new works of enduring worth created by Long Island City-based Galmer Fine Silver. The collection is sold through http://www.americanestatejewelry.com and through fine jewelers nationwide. Stores include DeScenza Diamonds in the Boston area; Tiny Jewel Box in Washington, DC; Jack Kreuter Jewelers in Richmond, Virginia; Works Gallery in New York City; Elie Jewelers in Yelm, Washington; Summerwind Jewelers in Portsmouth, New Hampshire; Stephanie G. in Hopkinton, Massacusetts; Cellini Jewelers in West Haven, Connecticut; P. Church Jewelers in Chelmsford, Massacusetts; Higashi Jewelers in Lemoyne, Pennsylvania.