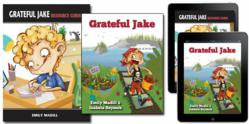 "Gratitude makes sense of our past, brings peace for today, and creates a vision for tomorrow," Melody Beattie.
Nanaimo, BC (PRWEB) September 25, 2012
Emily Madill believes introducing children to the concept of gratitude requires more than teaching the appropriate times to say please and thank you. She created the Grateful Jake book and 70 page Resource guide to encourage children to begin developing an 'Attitude of Gratitude'. Madill says, "I believe when we view life through the lens of what is working well and take the time to celebrate these things in our lives, we automatically create opportunities to feel confident and motivated. Adopting this kind of valuable outlook can then become an asset and tool children can apply throughout their lives."
About Grateful Jake: A homework assignment on gratitude leaves Jake completely stumped. After all, he's just an ordinary 8 year old boy - what's so great about that? But a weekend of adventures opens his eyes to the true meaning of gratitude, and just how lucky he is that it's always within his reach. This engagingly illustrated picture book will help introduce your young readers to the concept of gratitude, and the accompanying Grateful Jake Resource Guide will help you expand on those ideas with activities your whole family will enjoy.
Grateful Jake is available for purchase from online sellers such as Barnes & Noble and Amazon around the world.
The Grateful Jake book and Resource guide is also available as an iBook for iPad on the iBookstore.
Read what others are saying about the Grateful Jake book:
"Emily Madill is a mother of two boys. She understands the need to teach children the value of gratitude. 'Grateful Jake' helps children develop a virtue of appreciation. As an educator, counsellor, parent, and grandparent, I believe this book and the resource guide are important tools for young children. 'Grateful Jake' generates thinking and conversations about what people value or want to value in their lives. When children develop an 'attitude of gratitude' it invites awareness about what is going well. I believe the ability to access a positive outlook through the notion of gratitude can create on-going opportunities in a child's life. I highly recommend parents, educators, and helping professionals consider 'Grateful Jake' as part of their library." ~ Angela Slade, MA, Founder, EsteemedCHICs.com and Esteem Child and Family Services.
"Grateful Jake is a wonderful children's book. The writing is warm and focuses on family. While, Grateful Jake, as the title suggests, teaches children an inspiring lesson about gratefulness, it is also full of fantastic illustrations and special fonts to help children of every age follow along and involve themselves in the story. Skillfully written and beautifully illustrated, Grateful Jake is a perfect gift as well as a wonderful teaching tool. Loved it!" ~ Heather McArthur, Mother of two
Emily lives on Vancouver Island, BC with her husband and two sons. She has a degree in Business and Psychology. Emily believes in the importance of teaching children accountability and empowerment from a young age. She enjoys writing and creating anything that will inspire others to believe in themselves. Being a mother is the most creative job she has had to date.
Books by Emily Madill:
Captain Joe to the Rescue! (paperback)
Captain Joe Saves the Day! (paperback)
Captain Joe's Gift! (paperback)
Captain Joe's Choice (paperback)
The Captain Joe Collection (hardcover)
Captain Joe Teaching Resources (paperback)
Grateful Jake (paperback)
Grateful Jake (hardcover)
Grateful Jake (iPad edition with audio)
Grateful Jake Resource Guide (paperback)
Grateful Jake Resource Guide (iPad edition)
Emily's books are available for purchase from online sellers such as Barnes & Noble and Amazon around the world.
Emily is also available for hire as a freelance writer and specializes in inspirational articles.
She also focuses on fun ideas and activities to boost children's confidence on her
Confident Kids are Cool blog. For samples of Emily's writing please visit her blogs.
For more information visit http://www.emilymadill.com
Visit Her Author Page on Amazon at: https://www.amazon.com/author/emilymadill
To view her informative, fun and free newsletters or to join her mailing list click here:
http://authorsresources.ca/ArchivedNewsletters.html
http://ymlp.com/xgmhjshwgmgj
About the captain Joe series
The Captain Joe Series are 'Confidence Boosting' stories for children. The books were designed as a tool for adults to teach children about constructive imagination. The four books are a fun and interactive way to introduce the concept of "Thoughts Turn Into Things" (so choose the ones that make you happy) to young children, ages five to nine years. Joe and his thought-zapping superpower will invite children to use their imaginations to constructively choose thoughts that promote healthy self-esteem and self-awareness. Each story is designed to teach a key concept.
Read What Others Have to Say About the Captain Joe Books:
"The Captain Joe Books are the perfect resource to empower children and build their confidence. Self confidence is probably the most important thing a child can be given to progress into a successful person."~ Sidney Lloyd, Retired Primary School Teacher
"This series of short stories are both fun and transformational. Each story helps teach children the power they have in controlling and creating their thoughts and feelings. These subtle yet substantial stories can only bring enjoyment and awareness to younger children," Adrianne Dartnall, Counsellor and Communication Skills Trainer
Please visit the following sites:
http://www.emilymadill.com
http://www.captainjoebooks.com