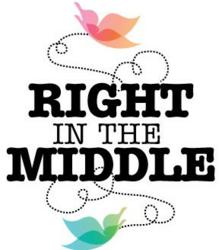 "There are many forces at work that can fill a middle school girl with doubt. But moms have more impact than they think in keeping those at bay." - Michelle Icard, Michelle in the Middle.
Charlotte, NC (PRWEB) September 25, 2012
Middle school. Those two words might bring back memories of social awkwardness, weird body issues, changing friendships and boys. With those memories still in the forefront of our minds, it's hard to imagine how we can help our daughters through the social drama that still is middle school.
Before the start of this school year, more than 150 people gathered in Charlotte for the inaugural Right in the Middle conference, a mother/daugher workshop for girls going into or just starting middle school. The workshop aimed to strengthen the connection between Mothers and their daughters and open the lines of communication before the middle school drama begins. The workshop was hosted by Michelle Icard, founder of MichelleintheMiddle.com, a middle school parenting blog and Athena's Path, leadership curriculum for girls. Although the conference was a workshop for moms and daughters, many others who care about young girls attended including grandmothers, aunts, school counselors and church youth leaders.
Because of her own middle school experience, Icard has developed programs to help adolescent girls (and boys) navigate the social challenges of middle school. During the workshop, she met with the girls separately, talking with them about how friendships change throughout middle school and teaching them how to handle "frenemies," the friends who aren't always nice or looking out for our best interests.
She worked with the girls to develop a list to present to the Moms: What I want you to do, and what I don't want you to do. One "do"" was: spend time with me away from my siblings. One "don't" was: don't call my friend's Mom when we're in a fight. There were lots of knowing nods and a few "I told you so" looks around the table, as the girls entertained and educated their mothers.
The program included Rosie Molinary, college professor, author and speaker and Dr. Melisa Holmes, co-founder of Girlology.
Dr. Holmes says good communication between mother and daughter "is important as experts in the field of adolescent health have indentified the parent-child connection as a super-protector that keeps tween and teens healthier, safer and more parepared for their future." Others who care about teenage girls attended the conference, including grandmothers, aunts, youth pastors and school counselors.
Dr. Holmes is also a specialist in Pedicatric and Adolescent Gynecology and the mother of three daughters. She spoke to the combined group of Moms and daughters with details and practical advice to help girls face puberty, changing bodies and the "boy scene" with greater knowledge and confidence. She urged the girls to remember that middle school boyfriends are BFFNs: boyfriends for now (not necessarily forever!).
Molinary, an expert on body image and self-acceptance, talked with the Moms. "The greatest tool in any transition is having the language to know how to communicate through it and the familiarity to do so," she said. "If we aren't careful as parents, we can begin to feel foreign to our kids in their middle school years." And this is a crucial time for parent involvement, although our children as pushing us away.
Molinary urged Moms to "drop the body judgement of yourself and others in front of your daughters." She encouraged the Moms to find something they are passionate about and to help their daughters do the same.
Icard calls the workshop a success, based on reports from the Moms. "Several Moms e-mailed the next day saying they had the best conversations in the car after the conference." Marlene reported that she and her daughter "left the conference with more knowledge that we definitely needed and a closer relationship with each other."
For more information about this workshop, or to bring this to your town: http://www.MichelleintheMiddle.com/workshop.
Michelle Icard writes MichelleintheMiddle.com, a humorous but helpful blog with tips and information for parents with middle school teens. She is the creator of Athena's Path and Hero's Pursuit, social education curriculum for middle schools teens.