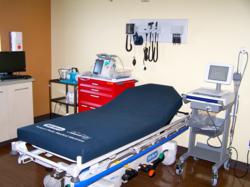 Nimble and cost effective to operate, urgent care centres offer quick and efficient one-stop service, taking the pressure off crowded ER's.
Nepean, Ontario (PRWEB) September 10, 2012
The new Urgent Care Centre located within the Rideau Valley Health Services (RVHS) complex at 1221 Greenbank Road (at Berrigan Drive) opens today to address the urgent healthcare needs of residents of Barrhaven, Ottawa South, Manotick, Kanata and Stittsville.
Hours of Operation
The hours of operation of the Urgent Care Centre are Monday to Friday: 8:00am to 9:00pm, and Saturday from 8:00am to 3:00pm. Sunday opening hours will be announced at a later date. RVHS is committed to providing urgent care coverage to the community. Initially, one emergency physician and a registered nurse will be available during operating hours. Additional physicians will join the team over the coming months.
What is an Urgent Care Centre?
An Urgent Care Centre is a facility that treats approximately 80% of the ailments normally treated in a hospital emergency room (ER), i.e., fractures, dislocations, sprains, cuts, infections and minor traumas. Like a hospital ER, an Urgent Care Centre is staffed by registered nurses, emergency physicians and general practitioners. Unlike hospitals, urgent care facilities do not accept ambulances or admit patients.
Shorter Wait Times
Urgent Care Centres offer shorter wait times. "At RVHS, we're all about the patients. Our goal is to assess and treat our patients in a reasonable time-frame," says the Centre's Administrator, Fred Casarramona. Nimble and cost effective to operate, urgent care centres offer quick and efficient one-stop service, taking the pressure off crowded ER's. For patients, this translates to a normal wait time of under one hour, rather than several hours. When operating at full capacity, RVHS' nine urgent care exam rooms will make it possible for as many as 200 patients to be seen daily.
About Rideau Valley Health Services
Rideau Valley Health Services is a satellite of Kemptville District Hospital (KDH), which used its financial leverage to build the facility in response to the obvious need in the outlying communities of its service area. Envisioned by Colin Goodfellow, the CEO of both KDH and RVHS, the Barrhaven complex comprises over 18,000 square feet of patient care and community space. Mr. Goodfellow describes RVHS as a "new model of health service delivery," and is pleased to see the Urgent Care Centre opening on September 10.
On-Site Diagnostic Imaging
A new state-of-the-art x-ray and ultrasound facility is located onsite, not only to support the Urgent Care Centre but also to provide a bonus to the local community as it allows area physicians to refer their patients for an x-ray (no appointment required) or an ultrasound (by appointment only), shortening wait times and offering care closer to home.
Other Family Health Services Available
RVHS has been designed as a leading edge consolidated healthcare delivery model. To this end, a new primary care facility opened in November, 2011, to a very welcoming local community, traditionally underserviced and in need of primary care physicians. The facility is capable of supporting 15 physicians who will provide health care services to 25,200 patients. RVHS features an onsite fully equipped pharmacy that matches the operating hours of the Urgent Care Centre.
Specialist Services at RVHS

Dr. Shahram Zolfaghari, MD, FRCSC, joined the RVHS team in March, 2012 as a General and Colorectal Surgeon.
Dr. Paul Shim, MD, FRCSC, joined the RVHS team in April, 2012 as an Orthopaedic Surgeon, specializing in Adult Hip and Knee Replacement.
Dr. Ejibunmi Adetola, MD, FRCSC, joined the RVHS team in April 2012 in Obstetrics and Gynecology.
Dr. Patricia Peticca, MD, FRCSC, has just joined the RVHS team and is establishing her practice in General Internal Medicine with a specialty in Endocrinology and Metabolism.
The Ottawa South Diabetes Education and Support Team provides individual and group education and support to patients living with Types I and II Diabetes. A Registered Nurse and a Registered Dietician and Certified Diabetes Educator accept referrals from all physicians; patients may also self-refer.
Dr. Muntorayo Adetola, MD, will establish a full service travel medicine clinic by appointment each Wednesday evening from 5-8pm effective September 19, 2012.