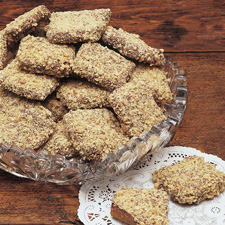 Fall is a gorgeous time of year in the East, and those who feel a trip isn't complete without checking the local chocolate offerings will love our Find Chocolate! app.
(PRWEB) September 12, 2012
When "leaf peepers" – those who are expected to crowd the picturesque back roads and byways of New England over the next few months – are struck by chocolate cravings, they're never far from a delicious fix, says Ecole Chocolat founder Pam Williams, who also developed the Find Chocolate! app for mobile devices capable of pinpointing the nearest chocolate shop anywhere in the world.
"Fall is a gorgeous time of year in the East, and those who feel a trip isn't complete without checking the local chocolate offerings will love our Find Chocolate! app," says Williams. The free app, which has more than 2,500 chocolate shops listed around the world and more than 9,000 subscribers, is available for iPad, iPhone and Android mobile devices.
New England's spectacular fall foliage will bring huge numbers of tourists from all over the world to even the tiniest hamlets, and although fall hasn't officially arrived yet, reports were already coming in to http://www.yankeefoliage.com during the first week of September of foliage color changes in Coos County, New Hampshire and Franklin County, Vermont, among others. The color changes are generally noted first in the more northern areas, and cascade south as cooling weather spreads southward.
"Our season usually starts between the 15th and 20th of September and goes for about a month," says Kathy Martin of Mother Myrick's Confectionery in Manchester Center, Vermont. The leaves there had not yet begun changing color at press time, but the weather's been normal so barring any unforeseen heavy rains, nature is expected to put on quite the show any moment now, says Martin, a long-time employee at Mother Myrick's, which was founded in 1977 and has its fabled "you-can't-eat-just-one" almond buttercrunch (in both dark and milk chocolate) always available as a best-seller.
New England's unusually colorful autumn landscapes are a product of both weather and landscape. A variety of trees that include oaks, maples, tupelos, elms, hickory, sumac, sweetgum and sourwood produce an entire palette of vivid reds, yellows and oranges, while traditionally warm days and cool nights trigger the color changes. Every tree has its own color signature, and New England is blessed with large stands of single types of trees, making for the breath-taking washes of intense color all along the countryside.
Meanwhile, says Williams, "no matter where on the foilage trail you might find yourself, the Find Chocolate! App will point you in the direction of the nearest chocolate shop for your chocolate fix, whether it's Mother Myrick's in Manchester Center, Priscilla Candies in Concord, Ma., or Hotel Chocolat in Boston near Beacon Hill.
The Find Chocolate! app is available for free at iTunes, Android Market and Amazon apps for Android.
Founded in 2003, Ecole Chocolat Professional School of Chocolate Arts offers a portfolio of programs for chocolate making – mastering techniques while gaining the expertise and business knowledge needed to become a professional chocolatier or chocolate maker. Ecole Chocolat's founder Pam Williams is the recipient of the Award of Excellence in Service to the Industry from the Fine Chocolate Industry Association. See our website: http://www.ecolechocolat.com.