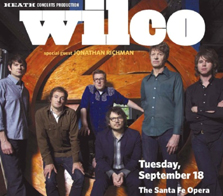 "Quite simply, this is the work of a great band at the peak of their powers, and The Whole Love is a joy to hear…confirming once again that Wilco is as good a band as America can claim in the 21st century." - All Music
Santa Fe, New Mexico (PRWEB) September 09, 2012
Heath Concerts is thrilled to announce WILCO live at the stunning Santa Fe Opera theater from 7 – 10 p.m. Tuesday, Sept. 18, 2012 for a show with very special guest Jonathan Richman. The acclaimed Chicago sextet appears in support of its latest release, the Grammy-nominated 'The Whole Love'. The concert is featured on SantaFe.com's event calendar.
"Quite simply, this is the work of a great band at the peak of their powers, and The Whole Love is a joy to hear…confirming once again that Wilco is as good a band as America can claim in the 21st century." - All Music
The band's reputation as a live powerhouse continues to grow: "Wilco's new millennial emergence as an avant-garde Americana juggernaut now grooves a newfound equilibrium. Never has this band been so comfortable and confident live…. These boys, often in a three-guitar front line (hello Skynyrd), live to make noise…" – Austin Chronicle
Singer, songwriter and guitarist Jeff Tweedy formed Wilco in the mid-1990s. The Whole Love is the third album by the band's current lineup, which solidified in 2004 when guitarist Nels Cline and guitarist/keyboardist Patrick Sansone joined Tweedy, founding bassist John Stirratt, drummer Glenn Kotche and keyboardist Mikael Jorgensen. Together, they released Sky Blue Sky in 2007 and the Grammy-nominated Wilco (The Album) in 2009. Wilco has won Grammy Awards for its 2004 release A Ghost is Born in the Best Alternative Album and Best Recording Package categories. Wilco's Jeff Tweedy won a Grammy award as producer for Mavis Staples 2010 album You Are Not Alone.
Wilco has released 10 studio albums to date, including Mermaid Avenue Volumes 1 & 2, which, in collaboration with British folk singer Billy Bragg, set original music to song lyrics by the truest of American icons, songwriter Woody Guthrie.
Wilco's dBpm Records is a full-service label releasing all future Wilco recordings and more. ANTI-Records provides distribution and additional label services for all dBpm releases. In 2010 Wilco, in collaboration with the Massachusetts Museum of Contemporary Art created the Solid Sound Festival, a three-day event of music, art, comedy and culture. The festival returns to MASS MoCA in June 2013.
Ticket Info:
Purchase Tickets Online a The Santa Fe Opera Box Office or by phone at (800) 280-4654
Prices - $30-$47
Contact Info:
Santa Fe Opera Box Office: 505-986-5900, 800-280-4654; santafeopera.org.
About SantaFe.com:
SantaFe.com provides locals and visitors to Santa Fe alike the most current interactive platform for events, music, arts, business, dining and lifestyle. SantaFe.com is a division of Hutton Broadcasting, located at 2502 C. Camino Entrada, Santa Fe, NM 87507
Contact Information:
Scott Hutton
SantaFe.com / Hutton Broadcasting
http://www.santafe.com
(505) 471-1067 (Media inquiries only, please)