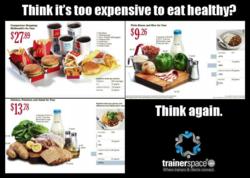 And HealthCompare demonstrates compassion again and again by staying on top of the information that consumers need most.
Orange, CA (PRWEB) September 13, 2012
Social media has become the platform of choice for HealthCompare, a nationally recognized health insurance comparison site. Daily, they release content that reaches out to help educate consumers on their need to stay healthy in order to lower their health care costs and increase the quality of their lives.
With the knowledge that life is moving now at rates beyond what it has ever moved before, staying healthy has been moved to the backburner of the mind. Meetings, extracurricular activities for school, a booming self-employment industry make taking care of self second to taking care of others.
And HealthCompare demonstrates compassion again and again by staying on top of the information that consumers need most. For example, the constant misconceptions that surround the health insurance industry, like out-of-pocket costs and the need for coverage, prompted HealthCompare to reach out to Americans by releasing innovative infographics that illustrated important industry findings.
Being the dry, yet hot, topic that it is, many people avoid "reading" about health insurance if at all possible. But engaging infographics deliver the same important content without the mind-numbing jargon that goes along with study reports. Some of the infographics creating and distributed by HealthCompare are:
Why Health Insurance Comparisons Are Important
Insurance For Self-Employed Isn't Impossible
Individual PPO Isn't For Everyone
Company Policies Vs. Private Health Insurance.
But HealthCompare wasn't satisfied with just circulating information. They want to reach as many people as possible to help make the field of healthcare less scary as possible. That's why optimizing on the E-book boom is so important to them.
E-readers allow Americans to carry their libraries with them wherever they go. And Amazon makes taking a new book with them as easy as a download. Enter HealthCompare.
They will release their own line of E-books that will continue their established tradition of teaching and compassion. Topics such as deciding to become an entrepreneur, learning to adjust to college life, learning how to be happy and how to adjust to married life will allow HealthCompare to get into the E-readers of Americans of all walks of life.
These titles will be published weekly and consumers will be able to download them from the HealthCompare website as they are released.
Staying healthy is more important than ever. And staying healthy financially is even harder. HealthCompare teaches consumers how to do both through their newly developed social media strategies and E-books.
About Health Compare: HealthCompare was launched in 2009 to work with brokers and carriers to help individuals and families easily research, compare, buy, and enroll in the right health insurance plan at the right price. Based in Orange, Calif., it delivers accurate, customized, health insurance quotes for the country's diverse population.
Through a unique partnership with its sister company, CONEXIS, HealthCompare has the ability to quickly reach thousands of COBRA-qualifying consumers and provide them with COBRA alternatives at the moment they become eligible for COBRA benefits. This provides these consumers with an opportunity to enroll in individual or family plans and potentially save hundreds to thousands of dollars on COBRA premiums and, at the same time, rewards referring brokers with referral fee income for the life of each policy.
For more information, visit http://healthcompare.com/ or call 888.748.5152.