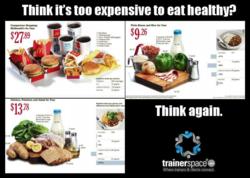 It's education like this that shoppers have come to expect from HealthCompare.
Orange, CA (PRWEB) September 15, 2012
In the spirit of myth-busting on HealthCompare's social media sites this week, they offered a nugget of information that could change the face of eating as the public knows it. The nationally recognized health insurance comparison site shared an image that depicts the actual costs of fast food as compared to two other healthy and nutritionally balanced meals.
The price of the McDonald's meal for four totaled almost $28, while the other two meals (pinto beans with rice and chicken with potatoes and salad) for four cost less than $14 each.
It's education like this that shoppers have come to expect from HealthCompare.
The company began showing people that visited their site that they care by asking them the questions they needed to answer in order to make effective health insurance coverage decisions. After having seen so many mistakenly make the wrong decisions based on price alone, they chose to be silent no longer, but to become an active part of the field as an advocate for information sharing in hopes to lead people to gain the coverage the needed while finding a price they could afford.
Stepping beyond their own site, HealthCompare created and distributed infographics to aptly depict the hardship stories that revolve around their industry. Seeing the numbers and understanding that 62.1% of all bankruptcies being medically related meant there was a need for change. HealthCompare chose to be a part of that change.
That's why they released infographics like this:
Getting an Individual Health Quote Is Easy
Where to find Health Insurance For Individuals
Where Can One Find The Most Comprehensive Health Insurance Quotes
When Are Individual Health Insurance Quotes Necessary
Now, they will take their compassion campaign even further than before by entering the publishing field.
Aware of the magnitude of the boom in the publishing industry, HealthCompare will use this power to reach into the E-readers of the American people. Since they can know carry their libraries with them, HealthCompare wants to be a part of everyone's collection and will offer a new title each week for free on their site.
The collection will consist of self-development topics that explore marriage, birth, divorce, and self-employment.
About Health Compare: HealthCompare was launched in 2009 to work with brokers and carriers to help individuals and families easily research, compare, buy, and enroll in the right health insurance plan at the right price. Based in Orange, Calif., it delivers accurate, customized, health insurance quotes for the country's diverse population.
Through a unique partnership with its sister company, CONEXIS, HealthCompare has the ability to quickly reach thousands of COBRA-qualifying consumers and provide them with COBRA alternatives at the moment they become eligible for COBRA benefits. This provides these consumers with an opportunity to enroll in individual or family plans and potentially save hundreds to thousands of dollars on COBRA premiums and, at the same time, rewards referring brokers with referral fee income for the life of each policy.
For more information, visit http://healthcompare.com/ or call 888.748.5152.