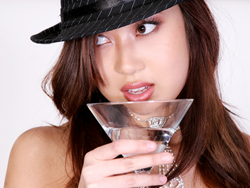 The No Red Face Formula has helped over 2,150 people cure their Asian flush.
Melbourne, Victoria (PRWEB) September 13, 2012
A little known internet start-up by the name of No Red Face Formula is beginning to win the attention of Asian alcohol drinkers around the world after recently claiming to have cured over 2,150 red faced Asian flush sufferers.
Once thought of as a genetic disorder without a remedy, Asian flush refers to the red facial flushing some people experience after drinking alcohol. With talk of a potential cure now available to the public, it is no wonder that people are curious to hear exactly how the founders of the No Red Face Formula came up with their prevention method.
"It was a matter of stubbornness and perseverance," said one spokesperson from the No Red Face Formula. "We suffer from the disorder ourselves, but didn't want to accept the same old worn out advice given to us that it was genetic and had no cure," he continued, "and after a drawn out process of trial and error we finally began to discover ways to alleviate our post-drink redness to the point where it eventually stopped happening altogether."
In a recent survey, the overwhelming feedback was that the disorder caused a significant amount of embarrassment for sufferers when they were out drinking in public. When you consider how fundamental alcohol is in our social and business lives, it becomes more and more apparent how debilitating this disorder can be.
"We understand how embarrassing it is," said one spokesman from the No Red Face Formula. "That is why it became our primary motivation to put our anecdotal findings into an easy to follow step-by-step formula so it could be made available to other sufferers around the world," he concluded.
Since releasing their formula, the start-up's founders have been contacted by the likes of BBC Asian Network as experts in their field and have also assisted various research companies in conducting clinical trials for Asian flush cures.
With the No Red Face Formula leading the way forward for Asian flush prevention, the onus is now on major pharmaceutical companies to recognize the seriousness of this disorder and bring to market a range of medications that remedy what was once falsely spoken of as an incurable genetic condition.