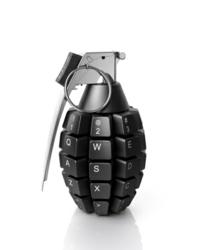 Webmasters need to analyze each and every link to their website and look for a malicious pattern
Vienna, Austria (PRWEB) September 13, 2012
Countless webmasters all over the world are angry at Google, the search engine giant, after it made an update to their search algorithm in April that allowed webmasters to anonymously harm each other's business using simple methods. This is done by exploiting a weakness in the way Google ranks websites. Google rates websites by counting the number and quality of links and basically looks at them as votes. The logic is that if a website has many good quality 'votes' it ranks higher in the search results. Until this update, links could only help, but not harm the search engine rankings of a website. After the update having too many "bad" links can almost wipe out the online presence of a company and this where the problem started. Dishonest webmasters can now create links on websites in shady online neighborhoods and point them to competing websites. This is a practice called negative search engine optimization or negative SEO.
Christoph C. Cemper of the search engine marketing company CEMPER.COM said that the problem is growing exponentially and that webmasters need to keep a close eye on who links to them and take appropriate measures if they find themselves under attack.
But exactly how can webmasters protect themselves properly? "Webmasters need to analyze each and every link to their website and look for a malicious pattern", Cemper said. "Once a bad link has been identified the next step is to eliminate it as quickly as possible". "Without the right tools this necessary process can be very time consuming and that is why CEMPER.COM created this new tool".
The Link Detox tool finds and analyses all the links pointing to a particular website and grades them into three categories; toxic, suspicious and good using a proprietary algorithm. The tool returns a list of the websites where the link is placed, why it is considered to be harmful and the contact details of the webmaster.
Cemper.com offers a wide range of information; research material and tools, such as the Link Detox Tool, that helps affected webmasters take back control of their online presence.
Company Information profile
CEMPER.COM is an SEO agency specialized in link building and search engine optimization (SEO). The agency offers link building software, link building strategy development, SEO competitive research, SEO training, and SEO tools. The company is based in Vienna, Austria, Europe, and was founded in 2003. CEMPER.COM serves over 500 international customers in the US, UK, Australia, and all European countries - including Germany, France and others.
Contact:
CEMPER.COM, Christoph C. Cemper
Tel: US: +1 (866) 347-3660
Tel: CA: +1 (877) 736-7787
christoph(at)cemper(dot)com
http://www.linkdetox.com, http://www.linkresearchtools.com, http://www.cemper.com