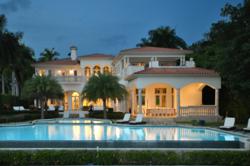 Video content is one of the most-effective ways that real estate brokers can market a property.
Miami Beach, FL (PRWEB) September 10, 2012
Zilbert International Realty, a leading luxury real estate brokerage based in Miami Beach, announced today that it has adopted a company-wide video strategy for the marketing of its real estate properties. It has just released its first production, one that showcases 100 Palm Avenue on Miami Beach's Palm Island.
Zilbert's first video production, which can be viewed at http://100palm.zilbert.com/100PalmVideo.htm and on YouTube, represents the firm's bold direction to make video content available to the rising number of broadband users on both desktop and mobile-based devices. Inman News reports that 82% of realtors who earn over $100,000 per year already have a YouTube channel. Zilbert estimates that this number will grow, and that video marketing will become a part of every realtor's toolkit.
According to Zilbert's Managing Broker, Mark Zilbert, "We find that video content now reaches millions more people than in past years, and both mobile and tablet devices are driving this rise in video use. With our first video release, we instantly saw about 1200 views of the video, and we tracked about half of them coming from tablets and mobile devices". Zilbert also noted that there were more views of his video on iPads than on any other tablet or mobile device.
Zilbert also attributes the wide variety of video creation and editing tools as enabling a growing use of both professional and amateur real estate video. He claims that "Shooting and posting video has become as easy as working with photos, but produces results that truly capture emotion and imagination".
Zilbert has partnered with Reyaldo Martin Video + Design, a South Florida-based video production company, to produce professional video montages of its signature properties.
ABOUT ZILBERT INTERNATIONAL REALTY
Zilbert International Realty is full-service, premium real estate brokerage that works with clients from around the world, helping them to buy and sell properties. It specializes in luxury estates, condos, homes and vacation properties across the globe. Its current property inventory includes some of Miami's finest homes and condos, plus a signature French Chateau located outside Paris in the Loire Valley. Through its alliance with the Who's Who of Luxury Real Estate and LuxuryRealEstate.com, Zilbert's global reach extends to over 70,000 real estate professionals in over 60 countries. Collectively, Zilbert and its network partners sell over $190B annually.
The company's website, http://www.Zilbert.com is a popular tool for its customers, with over 50,000 visitors each month, and over 10,000 properties that are updated continuously.
Zilbert's sales associates are an elite team of real estate professionals, recruited through a specialized, invitation-only selection process. The company is also a leader in the use of technology and social media to help it engage with its clients. Its core business philosophy is to build personalized, one-on-one relationships with buyers and sellers of real estate, and to partner with them through every stage of a real estate transaction. Its People-and-Technology approach to the real estate market enables it to provide an exceptionally-high level of customer service and customer satisfaction.
Zilbert International Realty was founded in 2003 by Montreal-born Mark Zilbert, a technology innovator who realized almost a decade ago that to prosper in real estate would require a strong adoption of technology. Having worked for such customer-focused technology companies such as Siebel Systems (now part of Oracle Corp.), Mr. Zilbert embraced technology and real estate, and developed tools to help buyers and sellers of real estate understand and engage in real estate transactions. Mr. Zilbert has appeared on numerous national news programs including ABC's 20/20, CNBC, CBS' Morning Show, ABC's Nightline. He has also been featured in the Wall Street Journal.
The firm offers a number of ways for its customers to interact with it. Its traditional business operation offers buyers and sellers of real estate access to sales professionals via its offices, by telephone, on the web, and in person. Its new Zilbert Realty Store is a retail-like shopping experience where buyers can interact with professional sales associates in a casual setting.