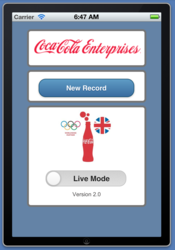 "Using Application Craft, we were able to turn our project around in a way that was not possible using any other approach we could find that did not require deep technical and mobile expertise," said Janice Cole, senior manager of Field Sales, Coca-Cola
Stratford-upon-Avon, UK (PRWEB) September 11, 2012
Application Craft, the app platform that kills unnecessary complexity, announced the official launch of its cloud-based app platform. The company created the platform to address the need for more simple yet powerful mobile application development tools for the beginner that will also satisfy the most experienced professional. Now with Application Craft, developers of all skill levels can build and deploy web, native and hybrid mobile, tablet, and desktop apps faster and more cost effectively than other solutions.
"App development has become hugely complex and unapproachable for many developers, so we set out to create a platform for developers of all skill levels who simply want to get their business or consumer app created professionally and out to market quickly," said Freddy May, founder and CEO, Application Craft. "Listening to our emphatic beta users, I would say that we have already been extremely successful."
Coca-Cola Enterprises, for example, needed an app ready in less than month for a last-minute data collection project for the 2012 Olympic Games in London. With such little time to prepare, they could not get it done in-house and turned to Application Craft. "Using Application Craft, we were able to turn our project around in a way that was not possible using any other approach we could find that did not require deep technical and mobile expertise. Being able to go from concept to a fully deployed data collection solution so quickly was impressive," said Janice Cole, senior manager of Field Sales, Coca-Cola Enterprises.
While Application Craft is a powerful option for pragmatic enterprise developers, the platform is also proving valuable for independent software developers and for teaching app development in the rapidly burgeoning mobile industry.
"I teach students how to build apps," said Michael Jay Kintner, instructor and founder of CNerd.com and i360Views.com. "It is my experience that most mobile app platforms are either too complicated for students or too simple for the creation of complex apps. Application Craft has filled this gap with a platform that is simple to use, but full of the features that my students want. I use Application Craft exclusively for my classes and to build cross-platform apps for my businesses."
Product Features:
From its drag-and-drop interface, to its 1-Click PhoneGap native app creation tool, Application Craft makes it fast and easy to design, build and deploy a cross-platform app that is appealing and engaging.
Application Craft offers a fully-functional free platform for the creation and deployment of cross-platform apps that beginners will find simple and intuitive. Using HTML widgets, they can add sophisticated features such as geo-targeting, analytics, social media sharing, complex data import/export, workflow processes and more.
The AC Pro Platform appeals to the more sophisticated developer and includes enterprise data integration, authentication, app migration, workflow, advanced widgets, database integration tools, support for Google Analytics and more.
In addition, coming out of beta, Application Craft will be adding the following features to its platform:
*Multi Language App Creation: App screens and code strings can be translated into any number of languages without writing a line of code.

Zing Charts: 20 chart types and a stunning chart wizard.
Circular Menus: A simple but useful widget that spirals out menu options when the screen is touched or moused-over.
Signature Widget: Document signing tool that seamlessly manages both hand-drawn and typed signatures, stored as a JSON object.
Funding
Application Craft has been able to build its platform with minimal outside investment and is already well on its way to operating at break even. Recently, the company has raised $1 million dollars in angel funding, which is being used to build the platform and hire sales, marketing and development staff in the US, UK and Russia. The company is currently backed by Angel Investor Danny Aegerter, owner of the Armada Investment Group in Zurich, with additional funding from Urs Wietlisbach, co-founder and vice chairman of Partners Group, one of the world's largest independent private markets asset management companies.
Developers interested in trying out the Application Craft platform can visit: http://www.applicationcraft.com/.
About Application Craft
Application Craft (http://www.applicationcraft.com) is a cloud-based app development platform that is uniquely designed to enable developers of all skill levels to create mobile, tablet and desktop apps.
Application Craft takes the unnecessary complexity out of building apps - with its drag-and-drop interface, 1-click native app deployment, and professional services - and provides the necessary tools to create powerful cross-platform apps that are appealing and engaging. The platform offers responsive design so that developers can simultaneously build and test full-featured web, hybrid or native apps once and deploy them across multiple platforms including iPhone, iPad, Android, Facebook, the desktop, the various browsers, and more.
Application Craft offers two versions of the platform – Free and Pro - to accommodate any business need or budget.
Application Craft can be found at:
Web: http://www.applicationcraft.com/
Facebook: http://www.facebook.com/ApplicationCraft
Twitter: http://twitter.com/appcrafty
G+: http://bit.ly/gplusappcraft
YouTube: http://www.youtube.com/user/appcrafty
Blog: http://www.applicationcraft.com/blog