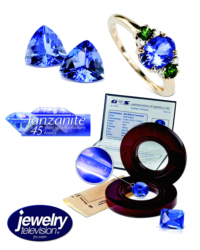 On a recent buying trip to New York City, we brought back Ocean Tanzanite--a striking blue and green stone that makes up only three to five percent of all tanzanite.
Knoxville, TN (PRWEB) September 11, 2012
Jewelry Television®, the world's authority on gemstones, will hold its Semi-annual Tanzanite event from Sept. 13 through 15. This desirable gemstone will be featured with three new gemstone custom cuts.
Tanzanite, one of the world's rarest gemstones and one thousand times more scarce than diamonds, was first discovered in exotic Tazania more than 45 years ago. The secluded area of the Merelani Hills in East Africa produces this single source gemstone.
"On a recent buying trip to New York City, we brought back Ocean Tanzanite- a striking blue and green stone that makes up only three to five percent of all tanzanite," said Jerry Sisk, graduate gemologist and JTV co-founder. "We haven't had this collection in a while, and it will be returning solely for this event."
JTV gives its customers the best tanzanite prices and the hottest picks of season during its semi-annual event. Two popular collections that will be included are Kutamani Tanzanite, which gives the aspirational look of the finest tanzanite at extremely affordable pricing, and Kianga™ Tanzanite that gets its name from the Swahili word meaning "burst of light". Several feature stones from the JTV Vault Signature and Heirloom collections will be highlighted, along with the debut of three new gemstone custom cuts.
"There is a reason we celebrate Tanzanite twice a year- this event delivers the most desirable tanzanite gemstones and jewelry available for our customers," said Sisk. "We feel confident that our Tanzanite collections will resound triumphantly with our customers because there is something for every taste and budget."
This exquisite event will showcase Tanzanite set in gold as well as sterling silver in every jewelry variety, including rings, necklaces and pendants, earrings and bracelets.
To view pieces from JTV's Semi-annual Tanzanite event, please visit http://www.jtv.com.
About Jewelry Television®
Jewelry Television® (JTV) is the only broadcast shopping network that focuses exclusively on the sale of jewelry and gemstones. The privately-held company was founded in 1993 and broadcasts high definition programming 24 hours a day, seven days a week, to more than 80 million unique households in the U.S. Jewelry Television® was recently ranked the 14th largest retailer of jewelry in the U.S. by National Jeweler. JTV.com is the fifth largest jewelry destination on the internet according to Internet Retailer's Top 500 Guide for 2010. For more information, visit JTV.com.
Ocean Tanzanite™
The ocean is sometimes greenest right before it hits the shore but look a little further out and you will see a mixture of blue and green that only Mother Nature can provide. With these colors in mind…Jewelry Television is pleased to bring you aptly named…Ocean Tanzanite™. This striking blue-green variety of the mineral zoisite is one of the most exotic of all tanzanite colors accounting for only 3-5% of all tanzanite mined. Exceptional, yet affordable, Ocean Tanzanite™ is a special addition to any gem collection. Order today before they are all washed away…Ocean Tanzanite™ is exclusive to Jewelry Television and http://www.jtv.com.