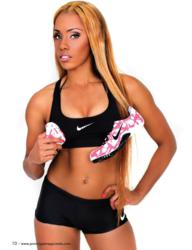 I am ready to bring my tea on sports.
Los Angeles, CA (PRWEB) September 10, 2012
Tea Party, hosted and created by Natalie Nunn the former "Bad Girls Club" cast member runs down the entertainment in Hollywood, fashion, and gossip. To stem things up on set 2x Olympian Carol Rodriguez Puerto Rican track star and USC graduate will be bringing the "Tea on Sports". Carol will be highlighting the ultimate plays and the standout player of the week during her segment.
Stay tuned for surprises from Carol Rodriguez.
Carol states: "I am happy to join Natalie Nunn on the Tea Party and bring my Tea on Sports segment to the show."
Meet the New Tea Party Member
2x Olympian Carol Rodriguez The Los Angeles-born Rodriguez, whose father is of Puerto Rican descent, holds five national records for the Caribbean island – in the indoor 60 meters and outdoor 100 meters, as well as the 200 meters, 400 meters and 4x100-meter relay. A 2008 Olympian, she won two medals at the 2010 Central American and Caribbean games, and was named the 2006 Women's Athlete of the Year for Puerto Rico. She is also an ambassador for first lady Michelle Obama's campaign against childhood obesity.
Check out Natalie Nunn and Carol Rodriguez on http://www.filmonla.com , Channel 64 DIRECTV/DISH Network or Channel 32 on Time Warner in Los Angeles. From 4 to 5pm PST.
Explore the world of Monster at http://www.monsterproducts.com
To become a fan of Monster products, please follow us on Facebook (facebook.com/monsterproducts) or Twitter @monsterproducts.