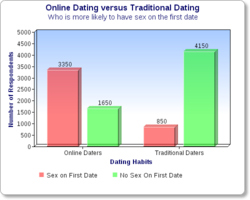 Possibly the reason for the high number of online daters willing to engage in sexual activity on the first date is that they've already been seduced before they meet.
Miami, Fl (PRWEB) September 11, 2012
A poll conducted by Sugardaddie.com, the 'site for the more attractive and affluent', found its members and those who use other dating sites were nearly four times as likely to get some booty on their first meeting. It also asked its members why an Internet date helps them get so lucky and there were some surprising responses.
More than two thirds (67%) of those asked, via telephone, divulged that they were much more likely to jump into the sack through meeting someone online than through 'normal' channels. That's compared to just 17% of non-internet daters who claimed they were likely to go all the way on a first date.
Steven Pasternack, CEO of Sugardaddie.com says: "Possibly the reason for the high number of online daters willing to engage in sexual activity on the first date is that they've already been seduced before they meet. We hear of many married individuals engaging in all sorts of sexual transgressions after connecting with one another online. What may begin as mindless flirting can turn into a torrid affair very quickly.
"You know where you are with online dating so you avoid any embarrassing misinterpretations or conflicts with what you both want. Not to mention you don't have the inconvenience and anxiety of trawling through all the local hotspots – especially useful if you're married and looking for some additional hanky panky." Then he added: "If that is the case, we find there is usually already a problem in their marriages and divorce is often around the corner anyway."
Some respondents said that the actual physical first date with someone you've already chatted to online, isn't strictly speaking a 'first date' because the pair have already interacted, got to know each other's likes, tone of communication and possibly had a little flirt.
The same survey by Sugardaddie.com also found that many members noticed their online interactions lasted longer than the first dates actually did. One said, "online encounters can venture into a level of intimacy that neither of us would dare to reach during a face-to-face meeting." Hardly surprising that when the pair meets they already feel that they have an emotional rapport – a vital ingredient if you're going to move things to the bedroom in a hurry.
There was, however, unanimous agreement that sex on the first date is a "relationship-killer". Both online daters and those who are active daters using natural channels agree that going straight from bistro to bedroom is more about lust than love. So while we all may be happy to engage in one-night stands occasionally, it seems that when it's time for a 'proper relationship' it's about more serious stuff. One site member said: 'A good relationship is about being honest about your feelings and such feelings can not be built in barely the time it takes to enjoy a 3-course meal."
Participants in the study observed that an Internet interaction has already set up the emotional connection by the time they meet their date. The only thing left is the physical compatibility, and that, they said, is usually decided within the first minute of the handshake. Makes you wonder why we bother with dinner at all – surely a chat online would be cheaper?
About Sugardaddie.com
Sugardaddie.com is an internet dating site that was founded in 2002. Since its inception they have appeared in the media numerous times in print, radio and TV etc, in both the United States and abroad. Sugardaddie.com offers a unique dating experience to meet the demand of its members who desire to meet others considered to be attractive and affluent.