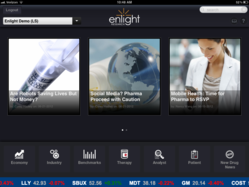 "Driven by shareholder demand and increased government regulations, the pressure for boards of directors to effectively govern is at an all-time high. Board Brief was created to help relieve that pressure."

Michelle Tartalio, Enlight Research
Durham, NC (PRWEB) September 11, 2012
Enlight Research, LLC, today announced the release of Board Brief, the new iPad app helping boards of directors become more knowledgeable about the companies they serve.
To make it easier for board members to stay on top of company news, Enlight Research developed the mobile application that provides real-time, customized financial and industry information. By logging into their unique Board Brief account, board members get access to articles, insights, benchmarks, and category news specifically tailored to the company developed by Enlight's industry analysts. While Board Brief content is highly customized to the needs of the company, the app contains several key features:

The latest economic data, relevant to the business, in real-time
Direct comparisons between company performance and industry average performance
Comparisons to companies within their peer group in over 100 relevant benchmarks - updated daily
Category and product information designed to support the different aspects of the business
Ownership positions changes and analyst estimates for companies all in one place
Board Brief also allows board members and executive teams to store and share proprietary information in a safe, secure, mobile solution.
Interested users can get access to a free demo account by downloading Board Brief on iTunes and registering online at http://www.enlightresearch.com/boardbrief. For pricing information, please call 866-900-0020 or send an email to info(at)enlightresearch(dot)com.
About Enlight Research
Enlight Research's mission is to provide a revolutionary, new way to engage with your board of directors. We strive to provide you customized industry and financial information to help you make smarter, more focused decisions in the boardroom. We are not just another research firm - we provide a solution to the board of directors that will change the way executives govern their business. Founded in 2011 as a division of the Clarkston-Potomac Group, our research analysts have executive experience working with Fortune 500 companies in the Life Sciences and Consumer Products industries.