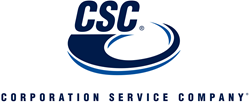 Customers have once again broadcast their preference for CSC's Entity Management and Matter Management solutions.
Wilmington, DE (PRWEB) September 12, 2012
Corporation Service Company® (CSC®), a leading global provider of business, legal and financial services, was named #1 for Entity Management for the second year in a row in a recent poll conducted by The New York Law Journal. Another CSC solution, Matter Management, took the #3 spot in the same survey.
The New York Law Journal's "Reader Rankings" ballot consisted of 63 categories encompassing the areas of Technology, Research, Accounting, Insurance, Financial Services, Litigation Support, Real Estate, Education, Recruiting and Staffing. More than 365 firms were listed on the official online ballot and voters were given the option of writing in additional firms. Over 6,800 readers cast votes for their favorite vendors, surpassing last year's count by more than 50%. Results were announced on September 10, 2012.
"With this survey, CSC customers have once again broadcast their preference for our Entity Management and Matter Management solutions," said CSC Vice President Jennifer Kenton. "We're honored by their support and will continue to invest aggressively in the technology they need to meet their biggest legal and compliance challenges."
CSC's Entity Management platform puts vital corporate data into a secure, centralized location, making it easy to track entity information, manage DBA portfolios, create and maintain minute books and safeguard important business documents, along with a host of other functions. Recent system enhancements include even better tracking, reporting, and compliance calendar features.
CSC's Matter Management platform is the total solution for any legal department's needs, whether the focus is on contracts, litigation or transactions. Matter Management gives users a powerful, intuitive tool for filing, tracking, routing and reporting on all legal matters. Both solutions are fully integrated with CSC's industry-leading registered agent service.
CSC works with hundreds of thousands of corporations and law firms every day, handling transactions that range from the simplest to the most complex. To learn more about CSC's award-winning business and legal solutions, visit http://www.cscglobal.com/solutions.
About CSC
Corporation Service Company® (CSC®), a privately owned service organization, is a leading provider of entity and matter management, corporate governance and compliance, and trustee services for companies and law firms worldwide; corporate identity protection services for top global brands; and due diligence and transactional services for the world's largest financial institutions. Founded in 1899, CSC has more than 1,600 employees located throughout North America and Europe. Visit http://www.cscglobal.com to learn more.