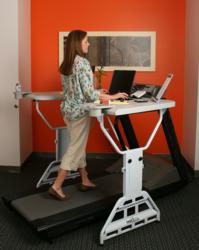 Technology helped create a lot of the health struggles we now face, ZD Net obviously recognizes that technology can also provide the solutions.
San Francisco, CA (PRWEB) September 11, 2012
On the heals of being selected by Forbes.com, in its annual ranking of the "Best Workplace Luxuries", TrekDesk Treadmill Desk was recently added to ZD Net's list of "20 Awesome Office Gadgets and Must Haves."
"ZD Net's ability to select innovative products for their readers has been invaluable for decades," stated Steve Bordley, CEO of TrekDesk Treadmill Desk. "Technology helped create a lot of the health struggles we now face, ZD Net obviously recognizes that technology can also provide the solutions."
TrekDesk is a full sized, height adjustable workstation which attaches to an existing treadmill allowing individuals the opportunity to walk slowly through the day while they work. ZD Net correctly characterized TrekDesk as a simple application with tremendous health benefits: You take a treadmill, you take a desk, you smoosh 'em together, then, BOOM: you have a treadmill desk. It's self-explanatory, really. And if you've seen all the studies lately talking about how sitting around all day is slowly sapping away precious years from your total lifespan, then you may well want to consider owning one! Read the entire article here: http://www.zdnet.com/20-awesome-office-gadgets-and-must-haves_p8-7000001100/.
While the financial and productivity risk posed by sedentary office settings to American business is well chronicled, affordable solutions to the problem have proven to be a challenge. Medical reports and studies focusing on rising obesity rates and ill health caused by "Sitting Disease" (a term given to the multitude of syndromes and diseases caused by sedentary lives) have emerged from numerous medical authorities since TrekDesk treadmill desk first appeared on the market.
The TrekDesk treadmill desk was the first affordable treadmill desk on the market. Selling since 2009 it has already attracted attention worldwide and raised the awareness as to the dangers of sedentary lifestyles. National exposure on CNN, FOX, ABC, CBS, NBC and National Public Radio have helped spread the word here in the states.
"We have shipped TrekDesk's literally all over the world and received press coverage in books, magazines or blogs from nearly every developed nation around the globe," related Bordley. "The dangers of sitting all day at the office are understood now on a global basis."
Why all the buzz? Businesses have recently discovered that walking while working has a benefit to their bottom line. Increased productivity, cognitive abilities, weight loss, improved moods, disease prevention, stress reduction, anger management, less absenteeism, and reduced health care costs are some of the benefits enjoyed by corporations employing TrekDesks.
Designed to fit any existing treadmill, TrekDesk treadmill desk is an affordable, full sized, height adjustable workstation that allows individuals the opportunity to gain the necessary amount of exercise daily to maintain health, prevent disease, strengthen muscles, boost mood and productivity, without requiring additional time during the day or extra motivation. Wondering how to workout at work? TrekDesk offers the solution.
TrekDesk is currently available for sale online at http://www.trekdesk.com.
Join the TrekDesk "Movement Revolution" to learn more, win a free TrekDesk or ask any health related questions anytime at http://www.facebook.com/trekdesk, or follow TrekDesk on twitter http://www.twitter.com/trekdesk.