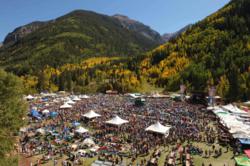 Out of the 90 different countries I've been to, I've never seen anything more beautiful than what you have here.
Telluride, CO (PRWEB) September 11, 2012
As the summer festival season winds down and the breeze becomes cooler in the San Juan Mountains, the spectacular aspen-covered mountainsides provide the perfect backdrop for this upcoming events season here in Telluride, Colorado. Whether you're an avid leaf-peeper or just need a last minute vacation to colorful Colorado, here are the must-do happenings this Fall in Telluride before the slopes open in late November:
There is no better place to immerse yourself in the golden foliage than taking a drive along the San Juan Skyway. Roll down the windows, turn up the radio, and get ready to be amazed while passing through some of Southwest Colorado's most unique and picturesque towns. The Skyway is a 233-mile loop that takes you through towering 14,000-foot peaks, ancient pueblo ruins, and Victorian era towns. This is the West at its finest.
Don't miss a local favorite, Telluride Blues and Brews Festival (September 14-16) in the beautiful Town Park. Phil Lesh & Friends, Gov't Mule, The B-52s, Little Feat, The Chris Robinson Brotherhood and many more will rock the box canyon this weekend with a Grand Tasting consisting of over 50 microbreweries on Saturday. When B.B. King performed here in 2004, he sat on Town Park stage, looked out at the mountains before him, and told the crowd, "Out of the 90 different countries I've been to, I've never seen anything more beautiful than what you have here." Cheers!
Bring September to a close with the inaugural Telluride Pig & Whiskey BBQ Festival on the 22nd and 23rd. The Kansas City Barbeque Society sponsors this new mouthwatering event, so bring your appetite and hop on the free Gondola to Mountain Village to get in on the action!
Events do not slow down in October as Telluride begins the month with Fall Tilt on October 6th. This 12-hour endurance bike race in the Mountain Village Bike Park is an incredible display of athleticism made more radiant by the glowing Aspen trees. Jewish reggae and hip-hop artist Matisyahu stops by for a visit on October 11 to deliver some hot beats off his newly released album to the crowd at the Sheridan Opera House. To enter to win two tickets and lodging to the sold-out Matisyahu concert, click here!
Singer/songwriter Abigail Washburn is also coming to the Sheridan Opera House in October. This intimate performance with Kai Welch, a Boston-based musician, on October 25 is not to be missed. Our last festival of the season has been voted one of the "20 Coolest Film Festivals" in 2011 by Moviemaker Magazine. The Telluride Horror Show frightens, inspires, and incites general horror in all who dare to attend. The Nugget Theatre and the Sheridan Opera House will host the screenings of the latest horror, sci-fi, and fantasy films on October 12-14.
Come Fall in Love in Telluride, and as you hike through the sunlit aspen-lined trails, you'll begin to understand why some come for a visit and never want to leave this magical place!
Start planning a trip to paradise in Colorado today. Call (877) 507-9695 or visit Telluride.com. Like Telluride's Facebook Fan Page and follow Twitter for up-to-date events, photos, videos, contests, exclusive lodging specials and more.
About Telluride.com
Telluride.com is owned and operated by Telluride Alpine Lodging - the longest-standing, locally-owned and operated lodging company in the Telluride region. Offering a wide selection of hotel rooms, vacation homes and condominium rentals in both Telluride & Mountain Village, Telluride.com is the only place to look to find the perfect Telluride vacation rental.
Media Contact:
Hart Roberts
Marketing Manager
(970) 728-3388, ext. 155
Hart(at)Telluride(dot)com
@hartwellskis
###