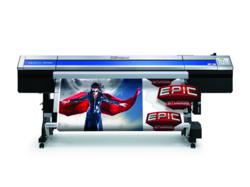 Roland's fastest, most powerful large-format printer/cutter ever, the 64-inch Pro 4 XR-640 ushers in a new era of quality, precision and performance."
Irvine, CA (PRWEB) September 12, 2012
Roland DGA Corp. has introduced the SOLJET Pro 4 XR-640, the industry's most advanced large-format color printer to combine integrated print/cut technology with an innovative new print head design, accelerated print speeds and new, reformulated Eco-Sol MAX 2 inks in nine colors, including white, metallic silver and light black.
The 64-inch Pro 4 is purpose built for production printing with a dual inline and mirrored print head configuration that yields outstanding image quality at a maximum print speed of 528 sqft./hr. Print speeds for white and metallic inks are more than 50 percent faster than those of previous models. The new Roland Pro 4 fires droplets of seven different sizes for exceptionally smooth gradations and flawless solid colors. Integrated contour cutting produces graphics of virtually any shape in one seamless workflow.
"As the industry's first printer/cutter to pack in this much power and versatility, the Pro 4 is truly a 'Swiss Army knife' for wide-format printing," said Eric Zimmerman, product manager for Roland DGA Corp. "New high-density inks include white, metallic silver and light black, allowing shops to reach profitable new applications and markets. And, while the Pro 4 XR-640 is bigger and faster than its predecessor, the XC-540, it actually costs less."
The Pro 4 XR-640 features Eco-Sol MAX 2, a new generation of Roland's award-winning eco-solvent ink that offers outstanding long-term outdoor durability, scratch and chemical resistance, broad media support and a wide color gamut. Developed exclusively for the Pro 4's new print engine, Eco-Sol MAX 2 is ideal for popular applications, including banners, signage, decals, vehicle graphics, interior décor, wall graphics and wraps, backlit displays, and photographic reproductions.
Eco-Sol MAX 2 adds value and impact to graphics with three specialty inks. New light black ink ensures a neutral gray for smooth gradations, natural skin tones and precision photographic images. An improved, reformulated white ink offers even greater opacity for exceptionally bright white text, graphics and floods. Metallic silver inkjet ink, also improved for brighter color, can be printed as a pure spot color or combined with CMYK to create hundreds of shimmering metallic colors and effects.
As Roland's most advanced SOLJET, the Pro 4 boasts a range of features that make operation efficient and cost effective, including an automated ink circulation system that reduces ink usage and maintenance requirements for white and metallic silver inks. A powerful, three-stage heater and optional dryer unit improve production, and a built-in take-up system handles media rolls up to 88 pounds for long, unattended production runs.
The Pro 4 comes complete with Version 4.8 of Roland's VersaWorks RIP software, featuring powerful new features to enhance image quality and improve productivity, including a built-in PANTONE® spot color library. When using this library, the PANTONE spot color in the design file is automatically converted to a CMYK value.
Scheduled for release in November, Roland's latest version of VersaWorks also includes a new predictive ink calculator that estimates the amount of ink needed for each job for flawless unattended printing. Also included are variable data printing, support for multiple devices and the Roland Color System for easy, accurate spot color matching of more than 1,000 standard colors and 512 metallic colors. A spot color replacement feature allows users to automatically replace a spot color with any option from within Roland Color without reopening the file in graphics editing software. A metallic texture library is included as well, making it easy to add textures and effects to metallic images for premium results.
The Pro 4 is backed by the Roland OnSupport service, a remote monitoring system that automatically sends email alerts to any designated smart phone or computer when a job is completed or ink runs low. The Pro 4 also comes with the Two-Year Trouble-Free Warranty Gold Edition,* which covers all parts and labor, including print head replacement. Along with two years of no-cost service and repair, the Gold Edition warranty includes two preventative maintenance visits by an authorized Roland dealer. These sessions follow Roland's 20-point checklist of tests and procedures designed to enhance printer performance over the long term, including full calibrations, powerful cleanings and mechanical adjustments.
Priced at $29,995, the SOLJET Pro 4 XR-640 is available through authorized Roland dealers. For more information, please contact Roland customer services at (800) 542-2307 or visit Roland online at http://www.rolanddga.com.
Roland DGA Corp.
Headquartered in Irvine, Calif., Roland DGA Corp. serves as the U.S.-based marketing, distribution and sales arm of Roland DG Corp. in Hamamatsu, Japan. Celebrating 30 years of innovation, Roland provides business-critical solutions everyday to professionals across the sign, grand-format, sublimation, UV inkjet, digital graphics, vehicle graphics, fine art, dental, photography, packaging, label, engraving and 3D modeling industries. Roland DGA is ISO 9001:2008 certified, and Roland DG is ISO 9001:2008 and 14001:2004 certified.
*Continuous exclusive use of Roland inks during the first two years of ownership is required to qualify for the free second year of limited warranty coverage. Customers may be asked to provide proof-of-purchase to substantiate uninterrupted use of Roland inks. Additional terms and conditions apply.