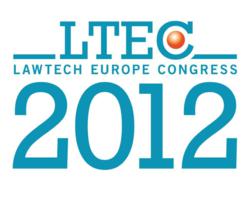 "We are pleased to have several highly respected organizations as a part of our inaugural LawTech Europe Congress 2012 event in Prague," said Frederick Gyebi-Ababio, managing director E-Discovery Europe and head advisor of the event.
Orlando, FL (PRWEB) September 12, 2012
Today LawTech Europe Congress names world renowned legal organizations as their sponsors for this year's event being held in Prague in November. Leading electronic discovery, forensic and legal technology experts will share their overall inquest on international litigation strategies and forecasts.
"We are pleased to have several highly respected organizations as a part of our inaugural LawTech Europe Congress 2012 event in Prague," said Frederick Gyebi-Ababio, managing director E-Discovery Europe and head advisor of the event. "The sponsor's support helps our team take this conference to the highest level of educational content and creates an overall optimal conference experience."
AccessData
Founded in 1987, AccessData now has over 100,000 clients worldwide. Its leading technologies, including Summation and Forensic Toolkit (FTK), and its much sought after certification programs are used by law enforcement, law firms, corporations, and government agencies.
Anect
In order to provide its customers with high quality and comprehensive services, ANECT achieved the highest certification necessary to partner with the world's largest companies. Their partners include Symantec, IBM, and Microsoft to name a few.
Apt Search
Apt Search and Selection are the UK's first recruitment specialists dedicated to the eDiscovery and litigation support sectors. It aims to become Europe's top legal technology and litigation support recruitment partner.
Association of Certified Fraud Examiners (ACFE-CR)
With over 60,000 members, the ACFE is the world's largest organization dedicated to combating fraud. Its members are located in more than 140 countries and investigate the more than 2 million cases of suspected fraud in civil and criminal cases.
Atlas Codexis®
ATLAS Consulting's signature product, Codexis, is the most comprehensive legal information system in the Czech Republic. The quality of its products is proven by the successful completion quality management system audits and by its satisfied customers, including Price Waterhouse Coopers.
Cellebrite
Known for its technology breakthroughs in the cellular industry, Cellebrite completes more than 250 million transactions annually. Its Universal Forensic Extraction Device (UFED), a high-end mobile forensics solution, is used by law enforcement, police, and security agencies in 60 countries.
Compelson
Compelson provides the worldwide standard for phone investigation. Its forensic solutions allow its customers, including the US military, the FBI, and the CIA, to retrieve all data from a mobile phone with one click and to generate forensic reports ready for the courtroom.
Deloitte
Deloitte Discovery is a global, one-stop service that provides corporate legal departments and counsel with assistance for discovery-related issues including designing and implementing e-discovery readiness plans, performing data collection, data filtering, processing, hosting, document review and production, and utilizing advanced analytics to help improve efficiency and defensibility.
ElcomSoft
Headquartered in Moscow, Russia, ElcomSoft has delivered corporate security and IT audit products since 1997. Its award-winning password recovery products allow users to recover even the most complex passwords faster and from various applications, including word processing, email, and compression programs; system and account passwords; and encrypted NTFS files.
Guidance Software
Known as the world leader in e-discovery and digital investigations, Guidance Software was founded in 1997 and trains over 6,000 corporate, law enforcement and government professionals annually. Its Encase® software solutions are used by more than half of the Fortune 100, with more than 40,000 licenses worldwide.
mh Service
Offering the entire range of computer forensic products, mh SERVICE is a leading provider of digital forensics solutions. Included in its portfolio is an internationally approved Forensics Training Center, its own data recovery laboratories, and its own development department.
Micro Systemation (MSAB)
MSAB, the global leader in forensic technology for mobile device examination, serves police, law enforcement, military, government intelligent agencies, and forensic laboratories in over 60 countries. Its XRY software is used by 97% of the UK Police Forces and due to its focus on a quality forensic solution, it has won several awards and recognition.
Mobilaris
In 2000 Mobilaris, Telia, and Ericsson launched the world's first LBS platform. Today, it is a global leading provider of software solutions for mobile location based services, present in 4 continents and reaching over 150 million subscribers.
Nuix
Nuix is changing the way E-Discovery, information governance and electronic investigations are conducted around the world. Nuix solutions scale to meet the needs of the smallest or largest organizations, making it faster and easier to undertake investigations and data management activities, no matter how big or complex the data sets.
Oxygen Software
Founded in 2000, Oxygen Software offers the most advanced forensic data examination tools for mobile devices. It is dedicated in delivering the most universal forensic solution covering the widest range of mobile devices running Symbian, Windows Mobile, Blackberry, iOS, and Android operating systems.
Recommind
Recommind provides the most accurate and automated end-to-end eDiscovery, enterprise search and automatic categorization software available. It has received several awards including Deloitte Technology Fast 500 and JMP Hot 100 Companies.
Rowan Legal
Rowan Legal provides clients with comprehensive legal support in business transactions; within development and investment projects as well as usual day-to-day activity. Awards include Law Firm of the Year, 2011, and Chambers Europe, 2012.
Timeslice (LAWMAN)
LAWMAN from Timeslice is a powerful integrated Practice, Document, Email and Case Management System for major Law Firms. It incorporates advanced software design in a modern integrated SqlServer and Microsoft Office system. Today Lawman is successfully used by leading firms of many specialties and size including Legal 500 and Top 100 practices in the UK and Overseas.
Valora Technologies
Valora Technologies, Inc. ("Valora") is a leading provider of automated solutions for document processing, analysis & review. The organization focuses on providing robust, technical solutions for the litigation and records management markets. Valora is known for their strong capabilities in TAR, automated indexing, coding, redaction and first pass review.
ZyLAB
Zylab's industry-leading, modular e-Discovery and enterprise information management solutions enable organizations to manage boundless amounts of enterprise data in any format and language, to mitigate risk, reduce costs, investigate matters and elicit business productivity and intelligence.
LawTech Europe Congress is pleased to have such sponsors supporting its first annual event and looks forward to continuing these mutually beneficial relationships. When Central and Eastern Europe have caught up with Western Europe, LawTech Europe Congress will have accomplished its ultimate goal.
Sasha Hefler, former President of the Masters Conference and current Chief Strategy Officer for LTEC states, "We are fortunate to have such highly respected sponsors our first year to share their views of the legal industry and show the value add of their products as well as services to corporations and law firms worldwide."
With just two months left before LawTech Europe Congress launches its educational forum, the sponsorship opportunities are limited but, there are still a few speaking opportunities and exhibit spaces for those who want to share in the experience.
About LawTech Europe Congress:
Its mission is to create a cutting edge legal technology educational forum that addresses three core areas which are eDiscovery, Forensics and Legal Technology. These disciplines are at the forefront of organizational operations globally and LTEC's guiding philosophy is to embrace solutions to empower law firms and corporations to reduce risk, limit the potential for expensive litigation exposure and to increase overall competence within the legal industry. This philosophy is vital in generating significant awareness for legal professionals and the organizations they support. Delegates will be engaged throughout our events with advanced presentations, panel sessions, hands on workshops, roundtable discussions and private demonstrations of the latest eDiscovery solutions. Our company strategically focuses on best practices and how they fit into upholding a high level educational structure. LawTech Europe Congress has set out to provide relevant solutions and advice to legal professionals and corporations today.
Please visit http://www.lawtecheuropecongress.com for sponsorship information and event registration.