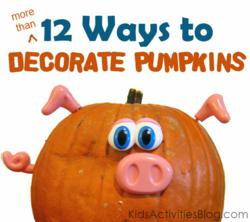 We are weeks away from pumpkin patches opening, what are you going to do with that pumpkin when you get home?
Dallas, TX (PRWEB) September 15, 2012
We are weeks away from pumpkin patches opening and the traditional hauling of pumpkins home. Parents will be looking for decorate pumpkin ideas that don't include handing their small child a knife. The added benefit of no carve pumpkin decorating ideas is that they will last longer. The decorations may even last until the holiday!
Kids Activities Blog found 12 perfect ways of decorating pumpkins without opening the knife drawer. Ideas include using real pumpkins for creating a pumpkin mummy with gauze and googly eyes, embellishing a pumpkin with crafting supplies, painting pumpkins with brushes, tape or drop paint.
Decorative pumpkin crafts using other items instead of a pumpkin are listed as well. Paper pumpkins, upcycling a soda bottle into a pumpkin head, pumpkin planters, decorative salt, upcycled party cups, paper Jack-O-Lanterns and button crafts are all ways that pumpkin art can be made without the pumpkin gut mess.
Activities for Autumn are all about families having fun with the season. Making these activities more accessible to younger kids can help the whole family participate. Many fall activities encourage a family be outdoors enjoying the cooler weather and spending time together.
P reschool Halloween activities can tie in these pumpkin decorating ideas with pumpkin-related books, pumpkin seed counting and color mixing for the color of pumpkins. Kids love to explore these activities with a pumpkin-theme.
Kids Activities Blog celebrates fun things to do with kids no matter what the season, but fall is special. The autumn holidays are perfect for family togetherness and simple learning games that everyone enjoys.