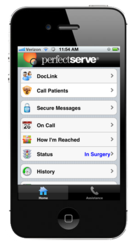 Our solution is effective with doctors because we give them the ability to manage the flow of information on their terms.
Knoxville, TN (PRWEB) September 11, 2012
PerfectServe, the leading platform for intelligent clinical communication services, announced today that it is now connecting more than 25,000 physicians through its platform across 154 U.S. healthcare markets and 54 hospitals in health systems including Advocate Health, Orlando Health, Wellstar Health System, St. Joseph Health System and Dignity Health.
More than 5,000 physicians have started using PerfectServe to improve clinical communications in their hospital and private practices in the past nine months alone, bringing the total number of physician users up from 20,000 in January.
"PerfectServe makes contacting colleagues much easier and makes communication between nurses and physicians and between physicians themselves more efficient," said Dr. Susan McDonald, vice president of medical affairs, St. Joseph's Medical Center. "PerfectServe's web-based contact is a favorite for both nurses and physicians, and the smartphone apps make it so easy to return calls and contact colleagues. We continue to find new ways to make the system work for us."
For healthcare providers who want to improve outcomes and efficiency, PerfectServe is a comprehensive clinical communications platform that makes it easy for clinicians to connect with each other and their patients - across the continuum - so they can better coordinate care.
Unlike the myriad point solutions, call centers and answering services; overhead paging; secure messaging, and so-called 'unified communication' systems, PerfectServe provides three capabilities that are essential to effectively manage the complexity inherent in clinical communications:
1. The industry's first purpose-built communications rules engine specific to medicine.
2. A best-in-class services organization to quickly drive and sustain communications process improvement and standardization - across an entire health system.
3. A suite of integrated, cloud-based applications that makes it easy to securely connect interdependent clinicians in any care setting.
"We are excited by the momentum we're gaining to establish PerfectServe as the intelligent clinical communications platform among leading health systems across the United States," said Terry Edwards, president and CEO of PerfectServe. "Our solution is effective with doctors because we give them the ability to manage the flow of information on their terms according to their workflow processes, call schedules and personal contact preferences—giving them more time to provide patient care."
About PerfectServe
PerfectServe offers intelligent voice, online and mobile clinical communication solutions for healthcare. Its industry leading platform routes calls and messages to the right doctor, at the right time, in the way each physician wishes to be reached. It gives physicians complete control over their communications while enabling hospital clinicians and nurses to expedite and improve the coordination of care. Based in Knoxville, Tenn., the intelligent clinical communications platform processes more than 35 million clinical communication interactions each year involving more than 25,000 physicians. For more information, visit http://www.perfectserve.com, Twitter or call 877-844-7728.
###