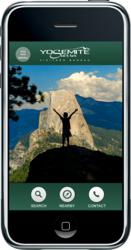 40% of all travel related web traffic is from some mobile device. If your website isn't mobile friendly, people will look to someone else
Oakhurst, CA (PRWEB) September 11, 2012
The Yosemite Sierra Visitors Bureau announced the launch of a new mobile-friendly version of their website, YosemiteThisYear.com.
"An increasing number of people are using the internet on cell phones or tablets. In fact, 40% of all travel related web traffic is from some mobile device. If your website isn't mobile friendly, people will look to someone else," said Rhonda Salisbury, Director of Marketing with the YSVB who headed up the project.
Anyone who enters the YSVB's website in the browser on their phone or tablet will automatically be taken to the new mobile-friendly site. It contains most of the same information as the full site, but it is formatted to work with mobile devices.
"The staff at Mobi-Manage did a phenomenal job in getting this site up and running quickly. The amount of features that they are able to put on to this site is really impressive," said Salisbury.
Features include an itinerary builder that lets visitors plan their vacations, a "What's near my location" button that shows users what restaurants, lodging or attractions are nearest to them, and a deals page where guests can find travel incentives being offered by YSVB partners.
The YSVB is also working with Mobi-Manage on the final touches of a mobile app for iPhones, iPads and Android devices that will allow users access to all the information on the mobile site without needing a live connection. There will also be additional functions, such as the ability to send photos to friends, social media elements and more.
"The app is being paid for with a grant from Yosemite National Park which is meant to help show people the many attractions in and around Yosemite other than the Valley, to help alleviate crowds to the Valley during the busiest times," said Salisbury.
The YSVB's website is http://www.YosemiteThisYear.com. To view the mobile site from a desktop, go to http://www.YosemiteThisYear.mobi.
The Yosemite Sierra Visitors Bureau is the entity responsible for promoting Yosemite National Park and the southern gateway region of Madera County, known as California's Gateway to Yosemite.
-END-