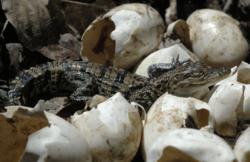 Silver Spring, MD (PRWEB) September 11, 2012
The Association of Zoos and Aquariums (AZA) today announced Conservation Endowment Fund (CEF) grants totaling $205,000 to be awarded to 11 projects.
"Supported by AZA's Conservation Endowment Fund, scientists at AZA-accredited zoos and aquariums and their partners are at the cutting edge of wildlife science. They are advancing our understanding of wildlife biology, reproduction, behavior, welfare, and many other topics," said AZA Senior Vice President for Conservation and Education, Dr. Paul Boyle. "Focusing on threatened and endangered species across the globe, AZA scientists are making important contributions to conservation and protecting the future of mankind's wildlife heritage."
Established in 1984, the AZA Conservation Endowment Fund is a competitive grants program that supports the cooperative conservation-related scientific and educational initiatives of AZA members and their partners. Every major type of conservation and animal care initiative is represented — research, field conservation, education and outreach, animal welfare, animal health and animal management. Many Conservation Endowment Fund projects are collaborations among AZA-accredited zoos and aquariums and state, federal and international wildlife agencies, academia and other conservation organizations.
Between 1991 and 2011, the CEF provided more than $5.5 million to 310 projects worldwide. These funds are raised through private and corporate contributions, including the Disney Worldwide Conservation Fund (DWCF) which provided almost half of the awarded funds this year.
Anyone may support next year's worthy conservation projects by donating online at http://www.aza.org or by texting "AZACEF" to 20222 to donate $10 to Conservation Endowment Fund.
After a competitive review of 64 applications, 11 projects were chosen to be funded for 2012. AZA congratulates the 2012 Conservation Endowment Fund recipients (the source of funds is noted after the project title):
Coexisting with Carnivores (CEF)
Katie Remine, Woodland Park Zoo
Conservation and Reintroduction of the Endangered Northern Riffleshell (NRS) Mussel (DWCF)
Mike Brittsan and Doug Warmolts, Columbus Zoo and Aquarium
Does Pastoralism Help or Harm Snow Leopards? (CEF)
Charudutt Mishra, Ph.D., Snow Leopard Trust
Immunogenetics of Chytridiomycosis in Chiricahua Leopard Frogs (CEF)
Anna Savage, Ph.D., Smithsonian Conservation Biology Institute, National Zoological Park
Stuart Wells, Phoenix Zoo
Impacts of Oil Palm plantations on Tropical Frog Communities in Borneo (DWCF)
Paul Crump, Houston Zoo, Inc.
Live Blue Ambassadors Teen Conservation Program (DWCF)
John Anderson, New England Aquarium
Reintroduction and Monitoring of the Mountain Yellow-Legged Frog (Rana muscosa) in southern California (CEF)
Frank Santana, Ron Swaisgood, Ph.D., and Jeffrey Lemm, San Diego Zoo Global
Reintroduction of Siamese Crocodiles to the Wild, Phase 2 (CEF)
Sarah Brook, Fauna & Flora International, Inc.
Resolving Conflict between Humans and Threatened Large Carnivores in Tanzania's Ruaha Landscape (DWCF/CEF)
Amy Dickman, Ph.D., University of Oxford
Translating Science into Practical Management for Sustainable Equid Populations: Building Bridges and Establishing a Semen Importation Model (DWCF)
Mandi Vick, Ph.D., Cleveland Metroparks Zoo
Linda Penfold, Ph.D., South-East Zoo Alliance for Reproduction & Conservation
Barbara Wolfe, DVM, Ph.D., DACZM, Columbus Zoo and Aquarium
Whooping Cranes Phone Home: Using Cellular Technology to Improve Monitoring of Reintroduced Birds (DWCF)
Claire Mirande, International Crane Foundation
Founded in 1924, the Association of Zoos and Aquariums is a nonprofit organization dedicated to the advancement of zoos and aquariums in the areas of conservation, education, science, and recreation. Look for the AZA logo whenever you visit a zoo or aquarium as your assurance that you are supporting a facility dedicated to providing excellent care for animals, a great experience for you, and a better future for all living things. The AZA is a leader in global wildlife conservation, and your link to helping animals in their native habitats. To learn more visit http://www.aza.org. For more information about Disney's conservation efforts, please visit http://www.disney.com/conservation.
###