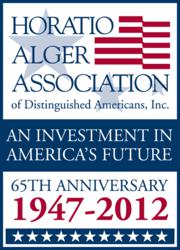 Washington, D.C. (PRWEB) September 11, 2012
The Horatio Alger Association is pleased to announce that it has awarded the 2012 Dennis R. Washington Achievement Scholarship to eight outstanding Horatio Alger Scholar alumni. The scholarship is designed to provide financial assistance to Horatio Alger National and State Scholars who are interested in pursuing graduate degrees.
The Dennis R. Washington Achievement Scholarship is made possible by the contributions of the Founder of the Washington Companies and Chairman Emeritus of the Horatio Alger Association Dennis R. Washington and his wife Phyllis through the Dennis and Phyllis Washington Foundation. In April, Mr. Washington received Horatio Alger Association's most prestigious award, the Norman Vincent Peale Award, for his continued generous support of the Association's mission and scholarship programs.
"We are proud of the accomplishments these young men and women have been able to achieve during their undergraduate studies," said Terrence Giroux, Executive Director of the Horatio Alger Association, "We are pleased to help them continue their careers in higher education."
Each scholarship winner receives up to $20,000 per year for a Master's degree and up to $30,000 per year for a Doctoral or Professional degree. The candidates must demonstrate leadership and entrepreneurial qualities as well as a passion for philanthropy. Other requirements that apply to the scholarship include:

Be an undergraduate recipient of the Horatio Alger National or State Scholarship programs who has completed a bachelor's degree and is currently in good standing with the Association;
Applicants already in graduate school must have a minimum 3.0 cumulative GPA;
Be a United States citizen.
The 2012 Dennis R. Washington Achievement Scholarship winners are:
Lowell D. Caulder, 2005 Horatio Alger National Scholar, California
Michael J. Foley, 2002 Horatio Alger National Scholar, Hawaii
Samson X. Lim, 2006 Horatio Alger National Scholar, Washington State
Christine W. Liu, 2004 Minnesota State Scholar
Jenny M. Ngo, 2008 Mississippi State Scholar
Daniel J. Oh, 2007 California State Scholar
Marcos L. Valdez, 2005 National Scholar, Arizona
Matthew J. Voichahoske, 2008 Ak-Sar-Ben Scholar, Nebraska
Founded in 1947, the Horatio Alger Association of Distinguished Americans celebrates those individuals in our society whose determination and hard work enabled them to overcome life's obstacles to achieve success. As a 501(c)(3) education non-profit, the Association provides scholarships and mentorship to high school seniors who have demonstrated courage in the face of adversity and an unwavering desire to pursue a higher education. The Horatio Alger Association will have awarded nearly $100 million college scholarships to almost 20,000 students by the 30th anniversary of its scholarship programs in 2013. For more information, please visit http://www.horatioalger.org.
Founded in 1988, the Dennis and Phyllis Washington Foundation is the major philanthropic organization for The Washington Companies and the Washington Family. Funding for the Foundation comes from the profits of The Washington Companies and personal contributions from the Washington Family. The Foundation focuses in areas of Education, Arts and Culture, Health and Human Services, and Community Services. Since its inception, Foundation giving and the Washington Family's personal contributions and pledges to charitable causes total more than $130 million. The Foundation website is located at http://www.dpwfoundation.org.