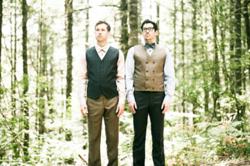 This fall and winter, well-dressed and put-together meets the woods in a rugged and thoughtful way.
Portland, Oregon (PRWEB) September 12, 2012
New in menswear, Duchess seasonal collections serve to present both an inspiration palette for custom clothing and a showcase of the season's off the rack separates and accessories. Fall & Winter 2012 Inspiration, the premiere seasonal presentation from Duchess, includes two new custom suit styles, ties in bright stripes and professorial tweeds, fine Oxford work shirts, and separates in classic charcoal, windowpane and camel herringbone, and a collection of formal ties.
"This fall and winter, well-dressed and put-together meets the woods in a rugged and thoughtful way," says Duchess owner and designer, Seyta Selter, who created and photographed the line at her woodsy home in the forest of the Bull Run watershed with veteran Duchess photographers from Studio Sundell.
The standouts of the inspiration collection are the two new Duchess custom suit styles, The Bishop and The High Line, both in natural hues with bold black buttons and completely unique composition. These suits are available to clients in their choice of fabrics and trimmings, made-to-measure, as new additions to the Duchess custom repertoire.
"The High Line Suit is the look of the understated yet confident renaissance man," says Duchess owner, Seyta Selter. "Its unique and modern double-breasted vest gives it a nod to the past, while remaining a thoroughly modern look. All put together, the crossover of the vest beneath the multi-buttoned slim lapel remind one of the folds of origami; almost delicate."
Duchess asked two Portland entrepreneurs to help debut the collection as a way of showcasing the uniqueness of their businesses and celebrating the creative small business support system available in Portland.
Portland jack-of-all-trades and entrepreneur Jason Leonard models the High Line for Duchess. Jason contributes widely to the culture of Portland through his music, with acts such as Loch Lomond, Nick Jaina, Laura Gibson, and Run On Sentence, as well as through his small business, The Affiche Studio. Both share the aesthetic delicacies and foundation in a beautiful past that Duchess cherishes and is exemplified in the High Line.
The Affiche Studio restores and preserves vintage posters ranging from film and travel posters to historical memorabilia and vintage advertising. Jason and his crew mount posters on an archival support, and carefully restore the often very damaged posters to their original beauty. Like Duchess, the Affiche Studio works to preserve the beauty of the past by re-presenting it as new to a modern eye.
Fall menswear goes a different direction in the other debut Duchess suit style, The Bishop. Unpadded in the shoulder with Western details like pointed flap pockets, top-stitched seams, and a back yoke, Selter describes it as "a suit for a pioneer; an innovator. Especially in this camel herringbone Harris tweed with green tones, and stark rows of black buttons, this Bishop is totally unique and badass."
Portland business-owner Crispin Argento models the Bishop. Argento founded and owns locally-produced, handmade men's accessory label, PINO Portland. Through PINO and spearheading events in the fashion community, Crispin is taking on the mission of uniting Portland's fashion scene and getting resources together to help it succeed and grow—together.
Named after his grandfather and Italian word for pine tree, Crispin started PINO "as an experiment to better understand the challenges of designing and producing high quality designs, building a brand, and surviving in Portland as a designer, in Argento's own words. "I hope to continue to grow the brand and offer the needed business resources and sales/production channels to advance emerging designers nationally and grow the Portland fashion industry," he says, looking forward to his role in furthering Portland fashion.
For inquiries into our custom suits, shirts and separates, Duchess, Clothier can be found in person at our Portland, OR headquarters, our San Francisco Showroom, and online at our website at http://www.duchessclothier.com.
About Duchess, Clothier:
Duchess was created in 2005 and has been making custom suits and separates for dapper gents and ladies for the past seven years from our Portland headquarters. Founded to encourage a sense of put-togetherness and pride in appearance, Duchess has provided thousands of one-of-a-kind suits to its discerning and happy clients.