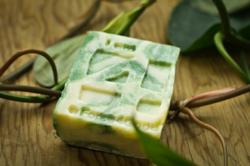 Fall is in the air and hearts are open to enhance lives.
South Windsor, CT (PRWEB) September 12, 2012
Creating a huge social impact, I am a Force4Good, will exhibit deliciously scented soap and body butters at the South Windsor, Knights of Columbus Craft Fair. All are encouraged to stop by the booth and learn about social enterprise and how I am a Force4Good have been enhancing victims of domestic violence lives.
This little company, with huge heart, started by women with the drive to see all succeed is doing good things. What makes I am a Force4Good special besides their deliciously enticing body butters? They stand for advancement of women, providing means for dignity, education, safe living conditions and leadership. Each product is touched by a women-gaining independence.
I am a Force4Good's brand new line up of feel good, be good, social enterprise artesian body enhancing products are rejuvenating cells. They are also offering employment solutions to those who need it most.
Lather Boston Crème Pie on your fingertips or relax your muscles with fresh lavender. Feel good, be good, and share the story of strength and dignity. Spread the scent of love with Fresh Maine Blueberries this Saturday from 9am - 5pm while enhancing another's life.