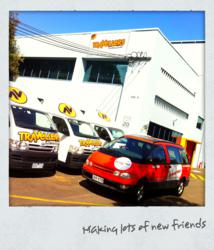 Strengthens both brahnds
(PRWEB) September 13, 2012
The tourism market from top to bottom is under going some structural change as a result of the high dollar and two speed economy. The recent announcement of the Qantas and Emirates alliance, the merger of campervan giants ,THL (Maui, Britz and Mighty Campers) with KEA NZ and United Motorhomes in NZ and the recent collapse of KEA Australia are indicative of the consolidation that the industry in both Australia and NZ is undergoing not just in the campervan sector.
Spaceships Australia's previous operational alliance with KEA Motorhomes Australia was abruptly ended when KEA went into liquidation and was snapped up by THL.
Craig Hart, Head Cosmonaut for Spaceships said "to be honest the alliance with KEA was never quite perfect and the new arrangement with Travellers Autobarn is a better fit all-round the culture, customers and staff at Travellers Autobarn are a much better alignment for the Spaceships brand".
Spaceships vehicles will now be picked up and dropped off at any of the 6 TAB branches around Australia, which now means Spaceships will be available from Perth, where they were not previously.
The alliance between Travellers Autobarn and Spaceships Australia means that their combined fleet of vehicles exceeds 630 vehicles making it the largest combined fleet of budget campervans in Australia by far, with the largest range of different vehicles and branches across Australia not just the East Coast.
Spaceships Australia director Greg Zammit was quoted as saying that the deal with Travellers Autobarn served to "strengthen both brands in Australia" and further that the international marketing alliance was a key factor in the deal. Both companies have a very strong relationships internationally and the ability to leverage off each brand made the alliance very strong player in the youth/budget/student market.
The last word went to Travellers Autobarn Managing Director, Peter Burke who said "In today's market, profit is sanity and volume is vanity, there's going to be more consolidation in this market, discounting, buying profitless market share or extravagant brand building can only end in tears"