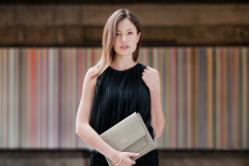 A fusion of chic, minimalist design and multifunctional purpose
(PRWEB UK) 11 September 2012
CAPULET is the latest addition to Luxury Artisan's ever-growing portfolio of luxury leather goods brands with a difference.
CAPULET was founded to reset people's views of luxury accessories. CAPULET fuses together technology and luxurious accessories by creating beautifully designed, finely crafted items that fit digital devices, whilst utilising only the finest leathers and vibrant colours.
This London based luxury brand has succeeded in creating stylish leather accessories for the modern woman of today.
Infused into every one of their beautiful pieces is a philosophy of chic, minimalist design and multifunctional purpose. CAPULET refuses to compromise on quality, and therefore all its products are handmade in Europe by skilled artisans from the finest quality French & Italian leathers.
CAPULET are obsessed with finding the most luxurious leathers. Each piece must be distinctive in look and lovely to touch. Only the very best full-grain and printed leathers are selected, as these will age beautifully over time. The products' colour palette is always vibrant and sophisticated, outlasting seasons and short-term trends. The leathers are sourced from the finest European tanneries, including Italy and France.
Buying a beautiful leather accessory from CAPULET will ensure that you own a handcrafted piece of the finest quality, that truly will last a lifetime.
With 9 niche brands already in its portfolio, Luxury Artisan continues to add excting new brands such as CAPULET. Their philosophy is perfectly aligned with that of Luxury Artisan, in that design works alongside function, and attention to detail is second to none. The element of craftsmanship is paramount, as is the use of the finest quality leathers available.
ABOUT LUXURY ARTISAN:
Luxury Artisan is an internet retailer of luxurious Leather Products from niche brands
All products are handmade by skilled craftsmen using the finest quality leathers and materials
Since launch in 2011, Luxury Artisan has supplied quality leather goods to customers globally