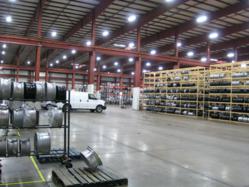 Better lighting, lower energy bills and an accelerated tax deduction...
Macedonia, Ohio (PRWEB) September 13, 2012
Blackburn Hubcap and Wheel, America's largest privately held provider of original equipment replacement wheel products recently replaced their 400 watt metal halide fixtures in favor of brighter and more energy efficient 4 lamp T5 fluorescent high bay fixtures in their 155,000 square foot warehouse facility in Macedonia, Ohio.
As part of the Blackburn's sustainability initiative, they were able to reduce their carbon footprint by 124 tons annually, equivalent to taking 23 cars off the road or saving 14,122 gallons of gasoline.
In conventional warehousing operations, the single largest source of electrical energy consumption is the lighting used within the facility. Thus, implementing energy efficient lighting has a big impact on reduction of carbon emissions used in generating the electricity.
Jimmy Blackburn claims: "With better lighting, lower energy bills and an accelerated tax deduction, why wouldn't we consider this cost reduction initiative? In fact First Energy, our utility company even helped pay for a portion of our project."
"After meeting with a number of lighting specialists, we selected Bob Taussig of ROI Energy to coordinate our project because of his knowledge and attention to detail. We couldn't be more delighted and our employees appreciate the brighter work environment." suggests Torrey Blackburn
The T5 high bay lighting system installed in their warehouse is yielding a 54% reduction in energy consumption for lighting and has already generated a savings to Blackburn's bottom line of almost $18,000.
Blackburn's is the largest privately held company offering original equipment replacement wheel products in the United States. Consisting of new, reconditioned and used OE wheels (steel and alloy), center caps, wheel covers and tire pressure monitoring systems (TPMS). Ph. 330-467-0236
ROI Energy Solutions of Hudson, Ohio helps manufacturers, warehouses and offices in NE Ohio reduce their energy costs and brighten their facilities. ROI is a turnkey provider, handling all aspects of lighting projects. Ph. 330-931-3905. http://www.ROI-Energy.com